We're back ( just me and the kids though, Dinesh is staying for a few more days) from our whirlwind trip to India, after days of sunshine, late mornings, no routines, indulgences, chitchats, and putting on weight in all the wrong places.  Although the heart desired to stay longer, it was, however a short, but refreshing break, and we're glad to be back to our routine. We reached home last night, and today, the warm clothes and bikes are out, the kids were happy to go back to school, and here I am, blogging away to glory.
And since we are talking of indulgences, a quick, but delicious treat that anyone can rustle up in a matter of minutes would be the icing on the cake. Do you remember these mini chocolate pots I posted recently? Some of you have even tried it out and loved it. The following recipe for cheese and chocolate mousse is somewhat inspired by that, but it is even easier and quicker.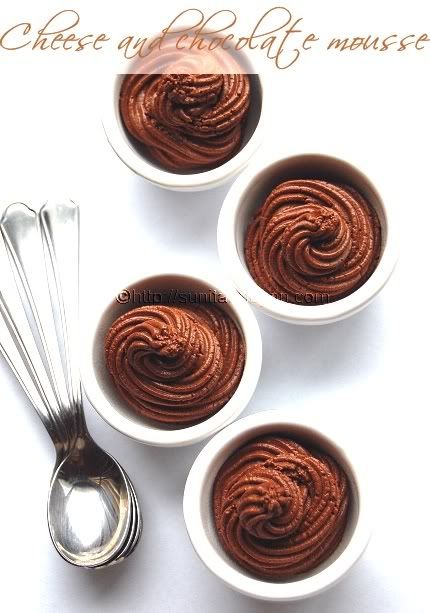 You can literally melt, mix and serve in a matter of a few minutes. With just three ingredients and three steps, it is a chocoholic's delight . I had made this before our trip to use up some leftover cheese, and none of us regretted it!
What's needed-
100 gms of dark chocolate ( mine had 74% cocoa solids), roughly chopped
2 tblsp agave nectar or honey
150 gms of quark (is a virtually fat free soft cheese) or other cream cheese
How to-
Melt the chocolate and agave nectar together in a bowl.
Mix in the quark and stir vigorously till everything is well combined. The mixture will thicken.
Fill a piping bag with the mousse and pipe into mini ramekins ( 2 inches in diameter) while still warm. I got seven of them. Of course you can just spoon or scoop the mousse into your desired bowl, but piping them does make them look more inviting
This picture is my entry for Click:Cheese

There! Wasn't that easy! A rich decadent dessert ready in minutes. And it's really yum too!
This is a very adaptable recipe and other ingredients like nuts and dried fruits can be added to it. You can also adjust the sweetness; add more or less according to your preference.
On another note, thank you so much for your support during the time when my site was down. The overflowing emails of concern, from you, my dear readers, were really overwhelming. Thanks also for being patient, for coming back, and leaving your comments when you could. I really appreciate it.
Raising a spoonful of the decadent desert to all of you !!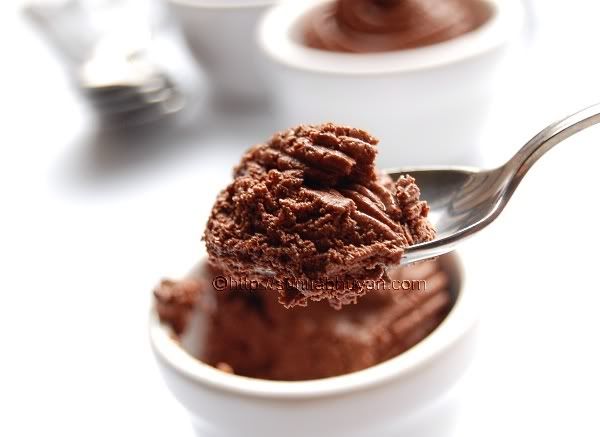 Enjoy!!