The year had just begun and the second month has drawn to a close already. Nearly half way into this month, and we had to rush off on an unexpected trip to India for about ten days. When the Daring bakers challenge for February was announced, it couldn't have pleased me more… it was chocolate all the way. But, with a very busy month,I finally got down to completing the challenge just yesterday and I'm typing this after enjoying it today as our after – lunch dessert.
The February 2009 challenge is hosted by Wendy of WMPE's blog and Dharm of Dad ~ Baker & Chef.
They have chosen a Chocolate Valentino cake by Chef Wan; a Vanilla Ice Cream recipe from Dharm and a Vanilla Ice Cream recipe from Wendy as the challenge.
Flourless chocolate cake with Greek yogurt, banana, and chocolate chips ice cream
The Cake is a flourless version with just three ingredients- Chocolate, butter and eggs.
The following is the cake recipe we had to follow-
Preparation Time:  20 minutes
16 ounces (1 pound) (454 grams) of semisweet chocolate, roughly chopped
½ cup (1 stick) plus 2 tablespoons (146 grams total) of unsalted butter
5 large eggs separated
1. Put chocolate and butter in a heatproof bowl and set over a pan of simmering water (the bottom of the bowl should not touch the water) and melt, stirring often.
2. While your chocolate butter mixture is cooling. Butter your pan and line with a parchment circle then butter the parchment.
3. Separate the egg yolks from the egg whites and put into two medium/large bowls.
4. Whip the egg whites in a medium/large grease free bowl until stiff peaks are formed (do not over-whip or the cake will be dry).
5. With the same beater beat the egg yolks together.
6. Add the egg yolks to the cooled chocolate.
7. Fold in 1/3 of the egg whites into the chocolate mixture and follow with remaining 2/3rds. Fold until no white remains without deflating the batter.
8. Pour batter into prepared pan, the batter should fill the pan 3/4 of the way full, and bake at 375F/190C
9. Bake for 25 minutes until an instant read thermometer reads 140F/60C.
Note – If you do not have an instant read thermometer, the top of the cake will look similar to a brownie and a cake tester will appear wet.
10. Cool cake on a rack for 10 minutes then unmold.
What I did-
I halved the recipe and baked four small cakes in ramekins. The top was just as it was mentioned…dry, but the cakes were moist and fudgy inside.
I used dark chocolate ( 75% cocoa) and the cakes had an intense flavour.
The recipe was fairly straightforward and I did not face any hiccups. It was mentioned that the cake sinks a little on cooling, but mine showed no such signs. Was it a good or bad thing?? I cut off the raised tops and plated them upside down.
We were given two ice cream recipes , but also  given the freedom to make our own. I made some Greek yogurt, banana and chocolate chip ice cream to go with the cakes.
Whats's needed-
2 ripe bananas, mashed
500 gms of Greek yogurt
4 tblsp of honey
1/2 tsp vanilla essence
a handful of dark chocolate chips
How to-
Except the chocolate chips, place all the rest of the ingredients in a food processor and process till smooth.
Transfer to a plastic freeze proof container, cover and freeze till half set ( took about an hour in my freezer).
Return the contents to the food processor and process again. Return to the container and freeze again till half frozen. Repeat this step one more time.
After the third time, process again and mix in the chocolate chips. Cover and return to the freezer till completely set.
Remove from the freezer a few mintes before serving.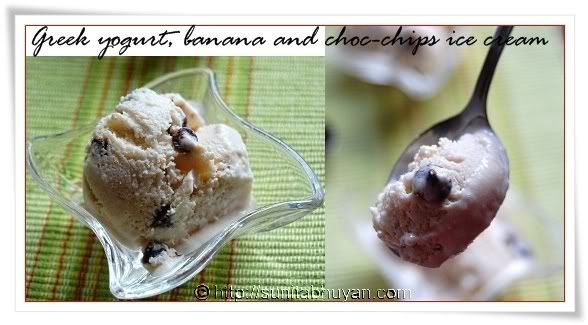 The dark and intense flavour of the cake went very well with the simple flavours of the ice cream. As we had been warned, the cake tasted exactly like the chocolate I used. For quite a while now, as I have been mostly using dark chocolate in my recipes that call for chocolate, the kids seem to have acquired a taste for it too.  "Absolutely gorgeous!", exclaimed Rengoni, as soon as she dig into the cake. Agastya followed suit too, and didn't mind the intense flavour at all.
As for me, I loved it, and I'm sure Dinesh would have loved it too ( will make it again when you're back, that's a promise).  The cakes were very rich. So, inspite of the already small sizes, we just had a piece each from one…can't wait for dinner now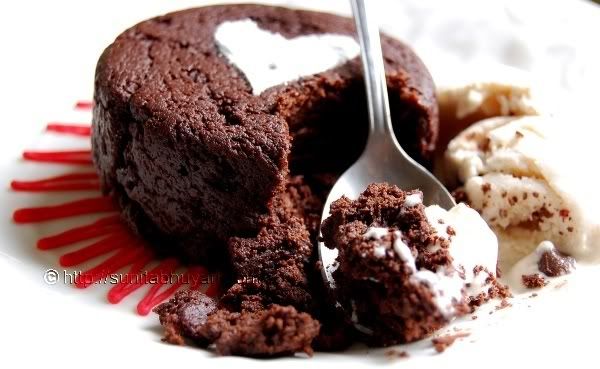 Thanks to Dharm and Wendy for this simple but very yummy challenge; I'm sure to repeat this again.