I had almost forgotten how it is to be a single parent; now, before you jump to conclusions, Dinesh and I, are still very happily married, just that he's not going to be around for a few days.
The first time me and the kids were alone for quite a while, was nearly six years ago, and the last, nearly five. When I compare those days to now, I can't help, but reflect on how different they are. Then, I had an infant and a toddler to look after, their emotions being put forward through broken words, smiles and wails. Now, of course, it is a different story altogether. Both of them have come a long way from that phase; now, they do not need to wail or giggle to express their likes and dislikes…yup! they just say it ( ahem! a bit too vocal at times). They have also become so much more independent. Where, in those days, I had to perch them both on my lap at the same time, and hum to them, now, they sit on either sides of me while we share a book. Now , they can help in holding the door open for me while I carry something bulky through it. Where, earlier, I was the only one who saw to their hurts, now, they too come running and give me a hug when I bump against something. They can share a joke, read by themselves, sleep through the night, eat , carry their plates to the kitchen after their meal, use the toilet, shower, dress, walk, run, jump, bike, swim, write, draw, climb the steps, answer the phone, carry their own backpacks…the list goes on and on, simple day to day things, but all of which they needed help with all those years ago. Yes, they have changed so much in these 5-6 years. Yes, it's different being a single parent to them now.
And the greatest change? Six years ago, when Dinesh returned to India from the UK after six months, I still remember the look on Rengoni's face, as she sized him up, all too critically . I still remember Rengoni asking me in which room Dinesh was going to stay… Agastya was way too little to even understand anything. It did break my heart at that time.
Yesterday was Dinesh's birthday, and when we called him ( he's away for a while), Rengoni repeatedly requested him to make sure that he would never be away on his birthday, "ever again". When both she and Agastya wished him, in fact, even sang the birthday song for him and showered him with kisses over the phone, at the same time, telling him, how much they missed him, I felt a tug in my heart too and I smiled. And yes, I wondered again, as to how much they had changed. Yes, they are growing up, and it is indeed, very, very different, living alone with them now than it was all those years ago!
On the cooking front too, things have changed. Their food habits have changed considerably, and they can now enjoy the same hearty meal as we do. I had soaked some rose coco beans
the other night, thinking of making something like rajma masala ( kidney beans curry). However, when the time came to cook them, I changed my mind and made something else…with vegetables and peanut butter, which produced a creamy and filling dish. It is quite easy, and, apart from the time to boil the beans, it is a quick dish to put together.
Here's how I made my rosecoco beans with peanut butter-
What's neeed-
1 onion, finely chopped
3 cloves of garlic, finely chopped
1 tblsp of vegetable/sunflower oil
3 and 1/2 C of boiled rosecoco (or kidney) beans
1 small carrot, finely chopped
1 small red pepper, finely chopped
1 and 1/2 tblsp of chunky peanut butter
1 tsp cumin seeds
1 bay leaf
1 whole red chilli, halved
1/3 tsp turmeric powder
1 tsp crushed red chillies( more or less)
1 tblsp roasted and ground cumin
3 C of water ( I used the liquid in which the beans were boiled)
How to-
Heat the oil and add the cumin seeds, bay leaf and red chilli halves.
When the seeds splutter, add the onions, garlic, carrots and red pepper, along with the turmeric, ground cumin and crushed red chillies. Stir well, and cook till the onions soften.
Add the beans, peanut butter and salt and stir constantly over medium heat till everything is mixed well and the peanut butter has melted.
Add the water, stir and bring to a boil.
Reduce heat, and simmer till the gravy thickens. Keep stirring in between.
Remove from heat and serve hot with rice or any Indian flatbread.
That's it! A very simple and easy dish, but with a creamy, peanutty flavour. We had it with some saffron rice.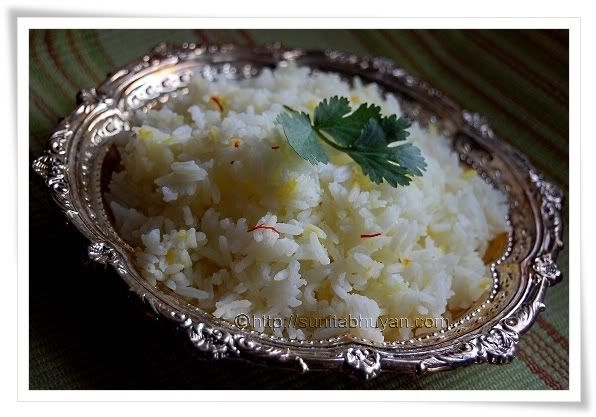 Well, actually, I was just making plain rice, and it was already half cooked, when I had finished cooking with the beans. Somehow, the look of the beans dish made me very happy and I just sprinkled a few strands of saffron to the boiling rice to add some oomph! We had one hearty meal that night. There were some leftovers ( still trying to get used to cooking for three) and it tasted even better the next day.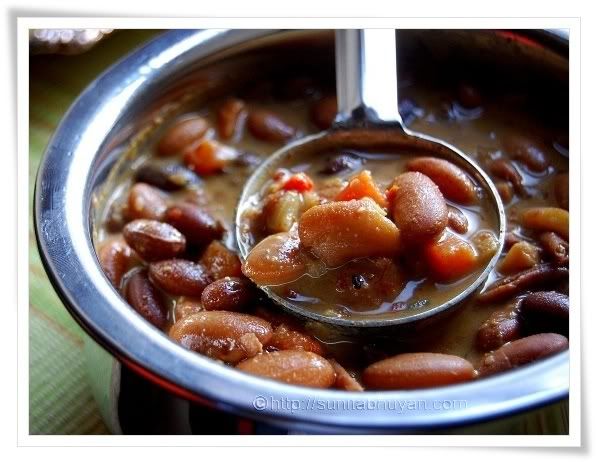 ***************************************************************************************************
Think spice-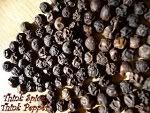 This month's edition of Think spice is being guest hosted by dear Divya of Dil Se. She has chosen a very popular spice …peppercorns as the star spice for the month of March'09. You have till the 31st of March to send in your peppery entries. So head over to her blog for the rules and get thinking.
Hosting Think spice-
If you are interested in hosting the event, please email me at sunitasworld@yahoo.co.uk with the respective month or months in which you are available (available from the month of September'09 onwards).
************************************************************************************************