Scones, especially the savoury ones, are something that I make quite frequently. They are a great accompaniment to soups and also a yummy snack on their own. Rengoni and Agastya absolutely love them…the mention of scones always puts a smile on their little faces.
This time, however, I went mini and made these mini rosemary and carrot scones.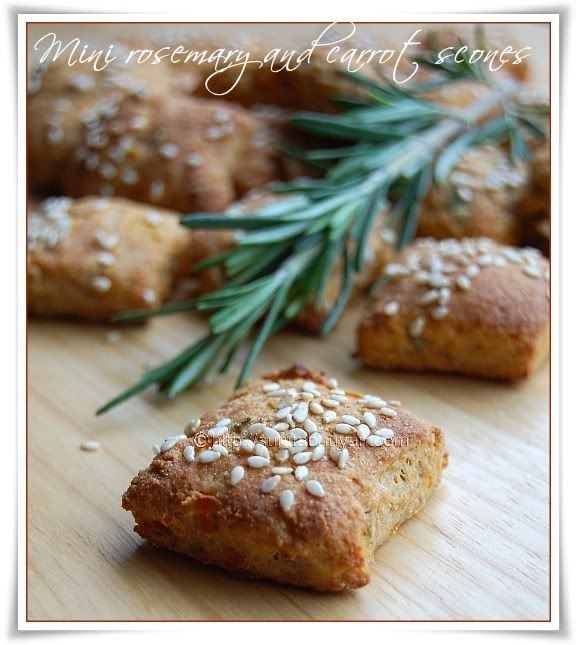 It takes literally minutes to assemble them, and minutes to devour them as well

What's needed-
1/2 C whole wheat flour (atta)
1 C wholegrain spelt flour
2 tsp baking powder
3 tblsp extra virgin olive oil
1 tsp salt
4 tblsp of grated carrot
3 tblsp of chopped fresh rosemary( or 2 tblsp of dried rosemary)
7 tbsp of low fat natural yogurt
a little milk for brushing the tops and a a little sesame seeds for sprinkling over the top
How to-
Preheat the oven at 220 deg C. Line a baking tray with parchment and dust with flour.
In a bowl, place the flours, baking powder, salt and olive oil and rub in with your fingertips till the mixture resembles fine crumbs. Add the rosemary and carrots, and rub again with the fingertips.
Make a well in the centre of the flour mixture and tip in the yogurt. Very quickly, mix everything together into a ball. Never over handle the dough, or the scones will turn hard. The dry and liquid ingredients should just come together. So, do not worry if your dough looks too craggy.
Transfer the  ball of dough to a floured board. With a floured rolling pin, roll out the dough to  about 7 inches by 13 inches. Cut into about 35 squares and transfer to the prepared tray, leaving spaces between them.
Brush the tops with a little milk and sprinkle the tops with sesame seeds.
Place the tray in the centre of the pre heated oven and bake for about 10-12 minutes or till the scones have risen, and the tops are firm and golden.
Serve warm. If saving for later, transfer the scones to a rack to cool completely before storing in air tight containers. Warm the scones a little before serving.
Ours hardly get to live long in containers. And these little ones were simply great to nibble on straight out of the oven,and that is also when they taste the best. Rengoni and Agastya pounced on them like there was no tomorrow, and I must say, that I did join in too. These scones would be great as an appetiser too with some dip.
Earlier versions of scones-