Thanks to all those of you who dropped by my blog to wish me on my birthday. It was just like any other day, with it being a week day. But I had several long distance conversations over the phone which did uplift my spirits…Dinesh, ma, my older sistert, and my dear school friend G to whom I was talking after quite a while.
Now, many of you did ask me as to when I would be posting the birthday cake. To be entirely honest, there was no cake at all, so, sorry folks, for the disappointment! Actually, I never bake my birthday cake. Although I love baking anyday, I just can't bring myself to bake some for the day. Usually, Dinesh does do something about it, but this time he was not around. As for the kids, they kept on repeating, "But, mummy, how can it be a birthday without cake; why don't we make some for you…you can tell us what to do". Aww, that was sweet of you darlings. The truth is, on this occasion, I would have probably baked one, if only I hadn't sprained my back. And no, please don't feel sorry for me, I probably deserved it. I knew I was in deep trouble as soon as the extra heavy backpack was on my shoulders and I biked a considerable distance back home. That was last Friday, and there is still a teeny  weirdness and tingling on my right side, but it does seem to be getting better with each passing day (touchwood) !
But, there is something which I wanted to share with you, not a fancy cake, but a spicy savoury quickbread that I made a few days ago.
Actually, yeasted bread was more on my mind, when I opened the new pack of mixed grain malthouse bread flour (Doves farm Organic), which again is quite new to me. I have never handled this flour before. I was shopping for rye flour, and the shelf where I usually find it, was, unfortunately, empty. But, reading the list of ingredients on the packaging (brown wheat flour, malted wheat flakes, rye flour, malt flour), I decided to give it a try.
As I mentioned before, I wanted to make yeasted bread, but had run out of yeast too (hmm, need to add it to the shopping list before I forget ). So, the quickbread was a last minute change of plan, and come to think of it, I didn't regret the change at all. Cheese ( Brie), spices, herbs and seeds all contributed their flavours towards this spongy savoury malthouse – brie quickbread .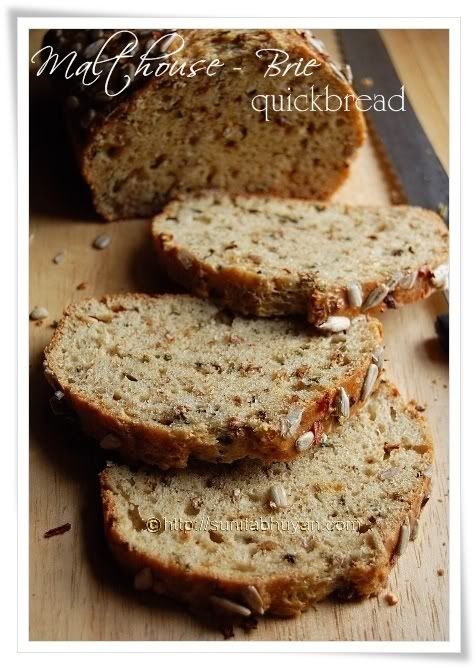 What's needed-
1 C mixed grain malthouse bread flour
160 gms of Brie cheese ( substitutes-other soft cheeses like Camembert /Reblochen etc )
3 tblsp of chopped fresh rosemary ( or 2 tblsp of dried rosemary)
1 and 1/2 tsp of baking powder
a pinch of bicarbonate of soda
2 tblsp of extra virgin olive oil
1 tsp crushed red chillies( more or less)
1 tblsp sesame seeds
2 tblsp of sunflower seeds
4 eggs, lightly beaten
Topping-
a little sunflower seeds and crushed red chillies
How to -
Pre heat the oven at 200 deg C. Line a loaf pan ( 8 and 1/2 inch by 4 and 1/2 inch) with foil and grease it.
In a bowl, place the first nine ingredients. Rub them together very well with the fingertips till the mixture resembles fine crumbs ( please do make sure that everything is well mixed together)
Make a well in the centre of the flour mixture and tip in the beaten eggs. Fold in till everything is just combined.
Tip the mixture into the prepared tin, smooth the top and sprinkle the topping.
Place the pan in he centre of the pre heated oven and bake for about 22-25 minutes or till a skewer inserted through the centre of the oven comes out clean.
Cool the loaf in the pan for a couple of minutes.

Lift the loaf out of the pan with the help of the foil, to a rack. Peel off the foil and cool the loaf completely before slicing.
That's it! Quite simple to make, isn't it ? This is a rich, spongy, savoury loaf. The seeds add a nice bite and the chillies add a slight heat.The crust was a delight.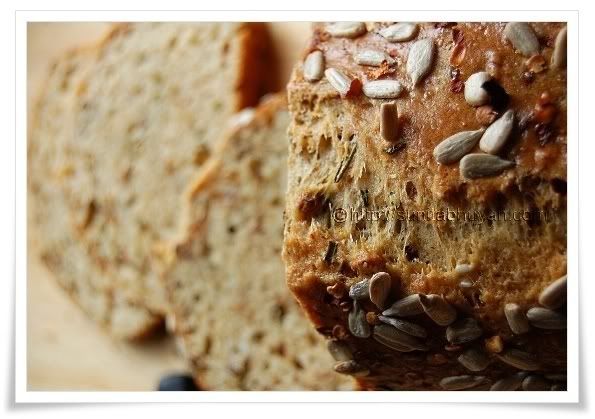 The herbs and cheese complement the rest of the ingredients and exist in complete harmony. A very simple red lentil soup (dal) was all we had with slices of the loaf. The richness of the bread complemented the simplicity of the dal. This is definitely one change of plan, I have no regrets about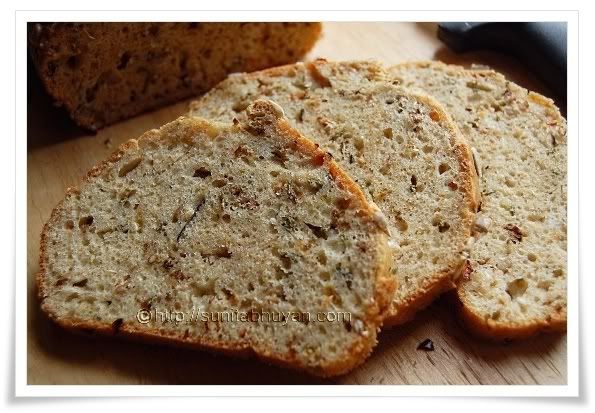 Am sending this bread over to dear Mansi who is hosting Bread baking day-quickbreads, and event, conceptualised by Zorra.