Writer's block! Isn't that what they say when you try to sit down and write something , but all that comes out is….well, nothing really. When you think of penning a masterpiece…words flowing effortlessly from your pen, or should I say, words being typed away at ease on the keyboard…constantly. So what do you do, when, you are perched in front of the laptop, with great plans of typing your thoughts the best way possible, and … what else, but no words come to your mind.
Well, I definitely felt that way today. Has my brain frozen…well, there is indeed a possibility, for the temperature has really made a nosedive today. It has been a nice sunny morning, and in all the bustle that accompanies a weekday, I didn't quite realise how cold it actually was. We were a few minutes behind schedule, and as me and the kids hurriedly stepped out of the house and opened the garage to take out our bikes, I was still unaware…the heat of rushing around was still keeping me quite warm. But as we hit the path, and as the cold air hit my face and numbed my hands, and reddened my nose, as the clouds of smoke burst out of our breaths or every time we spoke… I realised it all so well…that it's time for those heavy coats now… well, time also for those little squabbles with hubby dear, for I, unlike him, usually want the radiator on at most times

There is indeed another kind of charm in the air when the temperatures drop…the entire atmosphere seems to change… nature seems to be quieter as well…the bustle of spring is not there….a kind of hush seems to prevail…the sun shines down, but with a soft and gentle warmth in it's rays, ever so slightly brightening the changing hues of the trees at this time of the year, and glistening the blades of grass laden with dew…a different kind of beauty altogether…the people in their bright wintry gear are also a part of this atmosphere. I simply love to take in all this…so very refreshing. Well, nature always is , isn't it.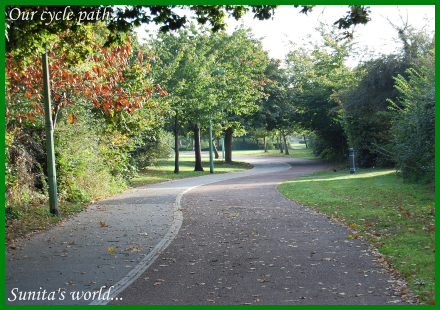 The cycle path(the darker lane, the lighter being the walk) near our house, which we use everyday to the kid's school…
Now, did I mention about 'brain freeze' a short while ago…well, talking about nature does seem to have thawed it well

The drop in the weather temperatures is very often complimented by an increase of temperature of the food…well, at least that's what I feel. So, when we come in after a stint in the cold outdoors, there is nothing quite like being greeted with a bowl of warm, hearty and comforting food…a bowl around which we can wrap our hands to take in it's warmth, and then savour the same from it's contents. A bowl of this stew with minced lamb, vegetables and rice is just one of those things that I love to serve my family on such a day. The kids never complain when I serve them this stew and I don't have to give them that gentle nudge to finish their meal.It is an uncomplicated dish without a drop of oil, is hearty, nutritious and comforting at the same time. I love making it…can feel the warmth already seeping into me. The lovely aromas that waft through the kitchen and through the entire house, are pleasing indeed. And the best bit is that it is a one-pot meal where one can put everything together, resulting in one wholesome dish. So here goes…
What's needed-
475 gms of minced lamb
2 carrots, scraped and cut into small cubes
a handful of green beans, cut into diamonds
2 medium sized potatoes,peeled and cut into small cubes
1/2 a red pepper, deseeded and chopped into medium sized pieces
1 large onion, finely chopped
3-4 pods of garlic , crushed
2 bay leaves
1 tbsp tomato puree
2 tblsp plain flour
3 tblsp worcestershire sauce
3 stock cubes, diluted in 3and1/2 glasses of hot water
2 C cooked rice
a pinch or more of chilli powder(optional)
salt and a generous helping of freshly ground pepper
How to-
Place the mince, carrots, beans, potatoes, onion and garlic in a slightly heated pan and fry for 10 minutes or till the juices begin to flow.
Blend in the flour , tomato puree and the worcestershire sauce.
Gradually stir in the stock.
Season with salt and pepper.
Add the bay leaves and simmer for 15-20 minutes or till the vegetables are done.
Stir in the rice, and simmer for another 5-6 minutes.
Remove from heat and serve immediately.
This stew tastes the best if served immediately, for it tends to thicken on cooling. Add a little water, or even better, a little stock, if reheating it.
It is a very hearty and filling dish… a dish which we immensely enjoy, especially on a chilly night.