Hope you all had a refreshing weekend ! We had a laid back Saturday and a bit busy Sunday. The weather has been hovering on the borderlines of spring and winter. In the midst of showers and grey skies, there were indeed bursts of golden sunshine, especially in the late afternoons, which added a wonderful touch, and a play of light and shadows all around.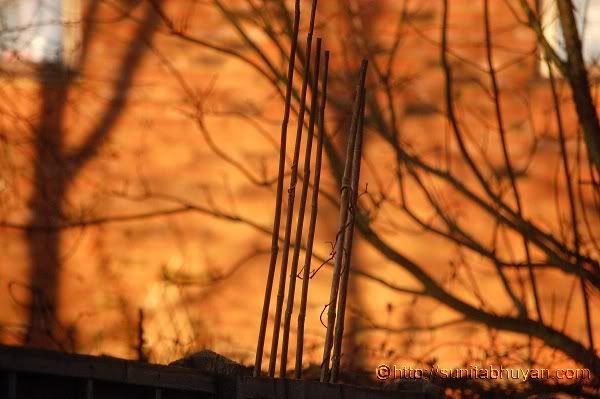 The bird spreads it's wings into the clear skies…
The following picture was taked by Agastya, which I absolutely adored. Recently, he is showing a very keen interest in photography and does manage to click a decent photo, not bad for a 6 and 1/2 year old, huh?….hmmm, serious competition

As for the clearing out in the title of the post, I was referring to clutter. I have been cajoling the kids to clear away their clutter, which seemed to have reached upto the ceiling, for quite a while now. After repeated requests, I decided enough was enough, and armed with bin bags ( and a few threats ), I got down to business. Once I started, both Rengoni and Agastya immediately joined in and helped to sort out their things into separate piles; probably they feared I was going to throw away everything and needed to keep an eye on me…don't blame them though, I was very much in the mood to do so ( think of a fire – breathing dragon)

So, after spending the greater part of our Sunday morning tidying up, I just had time to make a quick lunch for the three of us.
In the evening, however, I did bake up a batch of these delightful peanut butter, oats and chocolate cookies for the li'l ones to enjoy.
They did end up being quite good with the clearing up, and I hope these cookies must have helped to ease the pain of separation from some of their possessions

What's needed-
5 tblsp of chunky peanut butter (I used Whole Earth organic , chunky peanut butter with no added sugar )
5 tblsp honey
10 tblsp of milk
1/2 C of whole wheat flour (atta)
3 tblsp oat flakes
1 tsp baking powder
1/4 tsp bicarbonate of soda
3 tblsp vegetable/sunflower oil
4-5 tblsp of chopped dark chocolate
How to-
Melt together the peanut butter and honey. Stir in the milk and oil and keep aside to cool.
In another bowl, mix together the flour, oats, baking powder, soda and chocolate.
Fold in the flour mixture into the cooled ( but not completely) peanut butter mixture till everything is just moistened. Chill the mixture for about 15-20 minutes.
Pre heat the oven at 170 deg C and line a baking tray with foil.
Drop tspn fulls of the mixture onto the prepared tray, in mounds, keeping it quite rough looking.
Place the tray in the centre of the pre heated oven and bake for about 16- 18 minutes or till golden.
Cool in the tray for a few seconds and transfer to a rack to cool completely.
These are soft and chewy  cookies with gooey chocolate and a bite from the peanuts. Rengoni and Agastya wolfed down a few in record time. Yes, these  are good, wholesome cookies, not flashy, but  with a rustic, old fashioned charm… perfect to snack on.