"Click", said Bee and Jai, but don't just 'click', "click eggs". And their cry has been well answered , for there have been a flooding of eggspressions in the blogosphere.

We, like many other families are great lovers of eggs…my egg tray is rarely empty. So, when we had to click eggs, I was really pleased, for I didn't mind celebrating something which gave us so much pleasure. But having said that, to capture a moment of time in the life of those eggs in our egg tray with the camera, did require some thinking indeed. And ,I am, of course, just a novice photographer. But then, when the mind refused to come up with a brainwave , I just took out a few eggs from the tray, broke them into the bowls, stared hard at them, and realised that they did'nt look too bad indeed. Bright orange yolks floating in their whites. From then, I just followed my instincts. What I did was just season them with salt and freshly grinded pepper…looked more like a garnish, and then I went clicking.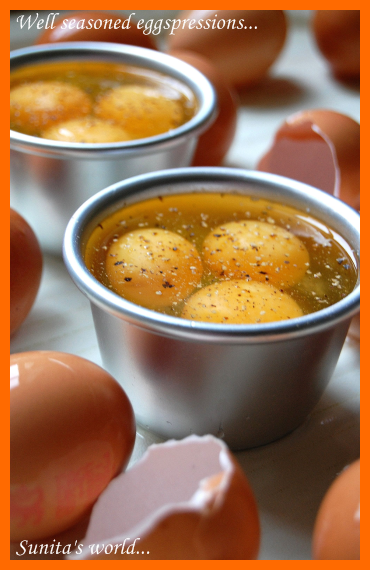 When I was satisfied, without a second thought, I just popped them into the oven and much to my pleasure, they rose to the occasion….which made me feel that they too deserved to be photographed.

They looked more like muffins. As for the taste, well to be honest, nothing spectacular… just imagine boiled eggs, a very big one. But, if you really fancy them, they would form a good meal with a salad. The crispy film on the top with the softer insides was quite good actually. But, whatever, my purpose was served and of course we did eat them up.
So here's another look at my eggspressions, the raw and the baked…

will be sending the' well seasoned ' one pictured previously, over to dear Bee and Jai at Jugalbandi for their Click- the photo event.

Now, tallking about memes, I had been tagged by Anne Marie nearly two months back, and more recently by dear Sra. Probably it's time I took it up… nothing out of the ordinary, just a few snippets from my very simple life…
4 Jobs I've held

I've always been a teacher of English literature, at various schools and then a college)

As a non boarding teacher at a residential school. This has been my favourite stint till date. I bonded really well with those little kids living in the hostels, for whom, away from their parents, their teachers were the only ones they could turn to share their thoughts. It was a very short term job, as I had to leave it in pursuit of my master's, but those days with the kids will always be a fond memory. They, as well as myself were really tearful when we parted our ways. Can still remember the tight, teary hug given by a dear little girl, trying to reach me among the slightly bigger ones.

At a day school, again with a great bunch of kids

.

In a higher secondary school …well, the kids were definitely grown up here…so it was altogether a very different experience, working with teenagers for whom life was rosy indeed and my word, did they have their attitudes …well, can't blame them, haven't we all passed through that phase:)

As a lecturer of in a college at graduate level….what can I say about this period, well, everyone was matured enough, and of course, the attachments that one develops while working with younger kids is definitely missing. It was just a job…enter the class, give a lecture, exit. Of course, there are a few fond memories, but that's it.
4 Places I've lived

Guwahati, my birthplace
Kolkata, where my two kids were born.
Gurgaon, we still have a nest there

UK, living here at present.
4 Places I've holidayed

Tawang, in the Himalayan state of Arunachal Pradesh, (for our honeymoon), a place of breathataking natural beauty.

Paris, with it's bright lights, and of course, the sophisticated cuisine.

Amsterdam, with it's beautiful tulips.

In the UK…the highlands of Scotland, the Lake district, Wales(Brecon Beacons), again,all of them are places where one finds nature at one of it's best.
4 Favorite Foods

Fruit and nut chocolate bars, anytime.

Chicken butter masala with naan… to satisfy those rich, spicy cravings .

Mung dal-rice khichri, my ultimate comfort food

A Cornish pasty .
4 Places I'd Rather Be
The idea of snuggling up in bed with a book is quite tempting…but apart from that, I'm really happy where I am…would not want to be anywhere else.
4 bloggers I'd like to tag

Asha
Viji
Cynthia
Bee
That's it! Btw, please do keep donating those smiles….you've still got till the 23rd of October( Refer to my left sidebar)