Finally, it does seem like spring. The weather is simply gorgeous today, bright sunshine, with a very slight breeze, enough to ruffle your hair just that teeny bit, plenty of birds, chirping around, and the daffodils are finally blooming. Yes, spring does bring in a spring in one's step. Hope it stays that way for a while, touch wood!
Now, talking of chocolate – it has such an effect on people ; people like me, I mean

. And yes, it has been the love ( or rather bane) of my life- the main reason for the increase in my waistline. I still remember the look of disbelief in Dinesh's face when I mentioned my love affair with chocolate on our first date. I do try to be good nowadays, and keep a tab on it. But, temptations will be temptations and they do get the better of me.
As far as the children are concerned, I do restrict chocolate to a great extent, especially during weekdays, and at times it also stretches over the weekends. Sad?? I think not, and they do consider it as a special treat rather than a part of their everyday life. Yesterday, me and the kids got down to baking some brownies.
During the course of the preparation, Rengoni asked if it was a healthy brownie. At such times, it does make me ponder-is there really such a thing as a " healthy brownie" ?? I don't know…as my reply, I told her that some things should always be considered as treats. But, if we can take away some of the naughtiness from those treats, it does make us a little less guilty in indulging. A little adjustment, some substitutions here and there does add up and can make a great difference.  And it does not necessarily have to compromise in taste.
And along with all that gyan

, we got down to the serious business of making brownies. These were rich and yummy, melt in the mouth sort of treat. If you like a soft, gooey brownie, then this is the recipe for you. The back is so much better now, and what better way to celebrate than with these decadent squares

What's needed-
8 tblsp of oat flakes
1 C walnut pieces
4 tblsp of muscovado sugar ( or other dark brown sugar)
2 tblsp of cocoa powder
100 gms of dark chocolate ( I used one with 80% cocoa), melted and slightly cooled
3 tblsp of applesauce ( home made, unsweetened)
4 tblsp of oil
1 and 1/2 C of milk
How to-
Pre heat the oven at 180 deg C and line the bottom and sides of an 8 inch baking pan with foil.
Place the oats and walnuts in a food processor and grind them roughly. Keep aside 2 tblsp of this mixture. To the rest, add the cocoa powder and mix well.
In a bowl, whisk together the milk, sugar, oil and applesauce.
Add the oats mixture ( not the 2 tblsp) to the milk mixture and fold in. add the melted and cooled chocolate and mix well.
Tip the mixture into the prepared pan. Sprinkle the 2 tblsp of oats and walnut mixture over the top.
Place the pan in the centre of the pre heated oven and bake for about 40-42 minutes. Between 20-30 minutes, if the top browns too much, place a piece of foil over the pan and continue to bake for the rest of the duration.
Remove the pan from the oven and cool the brownies in the pan. It will be very soft at this stage, but will get firmer on cooling. Cool completely and cut into sixteen squares.
Last, but not the least, sit back, let the brownies melt in your mouth, and smile
Next time, I will reduce the oil some more, or probably leave it out all together, and increase the applesauce. But yes, these were decadent. And we couldn't wait for lunch to be over to tuck into them. I think the texture was more pudding like than that of a brownie.
My little helpers had a blast and couldn't  wait to run their fingers over the bowl of chocolate.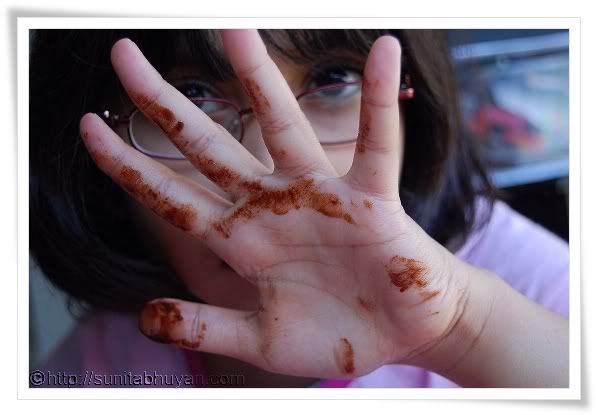 See those big cheeky eyes?? They're on a chocolate high!!

Enjoy!