The kids' half term is on in full swing…but dear Rengoni is down with a terrible cough and cold, at times feverish as well… Agastya's caught the cough bug as well…so the house along with their chatter, which is slightly less frequent now, is reverberating with bouts of coughing in unison. Finger's crossed for their speedy recovery.
Now, pasta makes it's appearance quite often in our household. We all adore it. And the best bit about it, is that the possibilities are endless. I tasted the following variation at one of our friend N's place, nearly a month ago, and couldn't wait to try it out myself. I absolutely loved it. Of course, I couldn't resist tweaking it a bit….like giving a miss to the cream and adding the green peppers, garlic etc. So you can call this as one of those 'inspired' recipes. But we did love the outcome, and that's all that matters, doesn't it…So here's my recipe for penne in a creamy mushroom and green pepper sauce…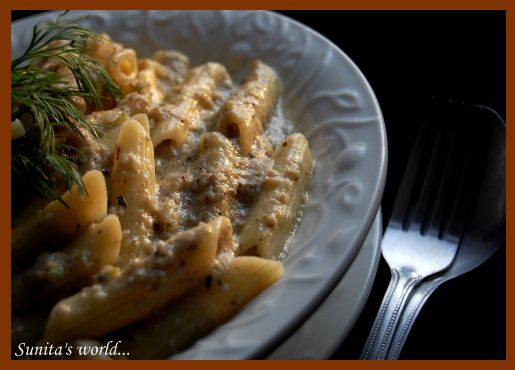 What's needed-
250 gms of penne pasta
5-6 large closed cup mushrooms
1 green pepper, deseeded and thinly sliced
3-4 pods of garlic, finely chopped
1 small onion, finely chopped
3 glasses of milk
1 and tblsp of cornflour
200 gms of cheddar cheese, grated
1 and 1/2 tbsp of dried herbs(oregano, rosemary, thyme)
3-4 tblsp extra virgin olive oil
salt and freshly ground pepper to taste
How to-
Boil the pasta according to packet instructions, drain and keep aside.
Heat the oil in a pan and add the onions, garlic, mushrooms and green pepper, along with a pinch of salt.
Fry over low heat for 8-10 minutes or till the mushrooms soften and the juices begin to flow.
Add the herbs and mix well.
Mix the cornflour with the milk and pour it into the pan.
Season with salt and pepper and simmer for 7-8 minutes…keep stirring to avoid sticking to the bottom of the pan.
Remove from heat and pass everything through a blender, but not into a very smooth paste.
Return the sauce to the pan over heat and add the cheese, stirring to melt it.
Add the pasta and mix well.
Let the sauce thicken a little more and remove from heat.
Serve immediately, for the pasta tends to absorb the sauce on cooling, and it will turn out to be too dry.
It was really nice and creamy, we lapped it up in no time at all. I will definitely be making more of it in the future, thanks to N. As a reminder, just make sure that all the bowls or plates are ready and the diners are nearby. It's one of those dishes that you make, serve and enjoy as fast as you can