Hurray!! We're still enjoying glorious sunshine…that makes it the third day in  a row, and the streak is supposed to contiunue till the end of the week.
I'm probably a bit sun-struck today and am experiencing what is known as "writer's block"!!
So, without mincing words, not that I have many today, let's go straight to today's recipe. It is a peanut, tofu and roasted garlic dip/spread.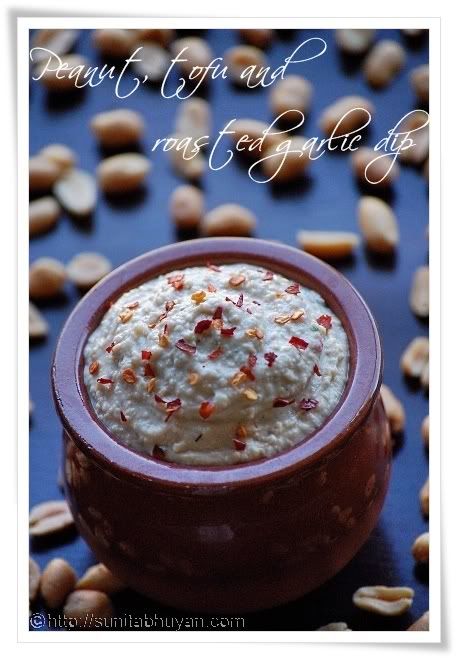 It is made somewhat like hummus, but with a different combination. It's very easy to make, and is full of flavours, with a slight heat which can be adjusted according to preference. The peanuts and the tofu blend together beautifully to give it a creamy consistency.
What's needed-
1C skinned, roasted and salted peanuts
349 (1 block) of firm silken tofu
5-6 cloves of garlic
3-4 tblsp of lemon juice
1 tsp crushed red chillies ( or as per taste),
1 tsp olive oil
For garnish-
a little crushed red chillies
How to-
Pre heat the oven at 220 deg C.
Place the cloves of garlic in a piece of foil and drizzle a little olive oil over them. Bring together the edges of the foil to form a pouch. Transfer the pouch to a baking tray, and place it in the top rack of the pre heated oven for about 15 minutes.
In a food processor, place all the rest of the ingredients. Peel the garlic and add the softened cloves to the food processor.
Grind everything together. You can make it completely smooth, but I prefer to leave a little bite to them.
Remove the contents to a serving bowl, sprinkle the crushed red chillies and serve with vegetable sticks/pita bread/tortilla chips etc.

We had ours with some tortilla chips.
Yummy!