I do love to cook and bake. But, there are times , when I just stare at the shelves or fridge and can't seem to think of anything to cook. The mind simply draws a blank…cook's/baker's block?? I think so. But dinner time approaches fast and with two hungry kids in tow, one has to act fast.
At such times, a few leftovers can work wonders. How about some cooked rice and boiled chickpeas?? I wanted to cook something fast, a filling one pot meal, without compromising on the taste and wholesomeness of the dish. And what about those veggies?? Hmm, I think I know what to do. Having some cooked rice was such a blessing, and the chickpeas were a bonus -rice and chickpeas go very well together. So, armed with quite a few things from the fridge and a few others from the shelves, I got down to business and made the following chickpeas and vegetable rice.
What's needed-
2 and 1/2 C of cooked and cooled rice ( I used basmati)
1 and 1/2 C of boiled chickpeas
1C chopped mixed vegetables ( I used carrots, green beans, babycorn and red pepper)


a handful of chopped walnuts
1/3 tsp turmeric powder
2 tsp of cumin powder
1 tblsp oil or ghee ( clarified butter)
salt to taste
To be ground together-
1 onion, chopped
1 inch piece of ginger, peeled and chopped
4-5 cloves of garlic, peeled and halved
2 tomatoes, chopped
For the tempering-
1 tsp cumin seeds
1 bay leaf
1 whole red chilli, halved
3 cloves
3 cardamoms
1 inch stick of cinnamon
How to-
Heat the oil/ghee in a pan and add the ingredients for tempering.
When the seeds sizzle, add the ground paste along with the turmeric and cumin powder. Stir constantly over medium heat till most of the moisture evaporates and the mixture is lumpy.
Add the chickpeas, vegetables and walnuts and season with salt. Stir well, cover and cook for about 10 minutes, stirring in between. Do not overcook the vegetables.
Add the rice and increase the heat. Stir constantly till everything is mixed well, and heated through.
Serve hot with yogurt or raita.
There! A filling, and delicious dish ready in minutes. We had ours with some cucumber raita, and all three of us reached out for seconds. The spices lended their flavours to the rice and chickpeas, the vegetables and nuts added their crunch. And with dollops of cool raita, it was bliss. No greater joy for the cook than to see the food disappearing fast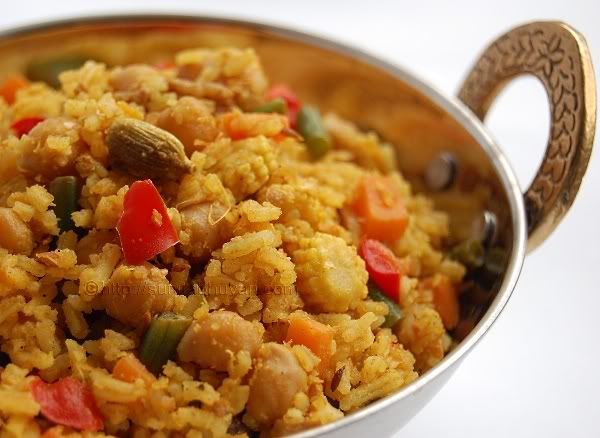 We had a very foggy and chilly start to the day. In fact, the kids  pretended to be walking through clouds on their way to school. As I type this, the sun seems to have come back, spreading it's gentle, golden glow. Yaay!!
So, take care, all of you, and have a great weekend