Hope all of you had a wonderful start to the week. We had a frosty but bright start to ours. This is going to be the last week before the kids Easter holidays. And yes, even though this means that the noise levels in the house are going to rise by many degrees, I'm really looking forward to it…I think we all need a break from the schedule.
I made these ginger, banana and walnut cupcakes quite a few days ago, which we really liked. Along with ground ginger, the cupcakes also have pieces of crystallized ginger in them which added to the flavour. They were moist and spongy too. So, I'm really pleased enough with the outcome to share the recipe with all you wonderful people…
What's needed-
1/2 C milk
1 large ripe banana, roughly mashed
3 tblsp of dark muscovado sugar
1/2 C oil
1 and 1/4 C of whole wheat flour (atta)
2 tsp baking powder
1/3 tsp bicarbonate of soda
4 tsp ground ginger
3 tblsp of chopped crystallised ginger
3 tblsp chopped walnuts and a little extra for topping
How to-
Pre heat the oven at 180 deg C and line a cupcake tray ( 10 moulds).
Ina food processor, blend together the banana, milk and sugar. Keep aside.
Sieve together the flour,ground ginger, baking powder and bicarbonate of soda into a bowl. Add the oil and rub in with the fingertips. Add the 3 tblsp of walnuts and crystallised ginger and mix well.
Make a well in the centre of the flour mixture and tip in the milk mixture. Fold in, preferably with a rubber spatula, till everything is just moistened.
Fill the cup cake liners with spoonfulls of the mixture and sprinkle the extra nuts on top.
Place the tray in the centre of the preheated oven and bake for about 18-20 minutes or till a toothpick inserted through the centre comes out clean.
Cool in the tray for a few seconds and transfer to a rack to cool completely.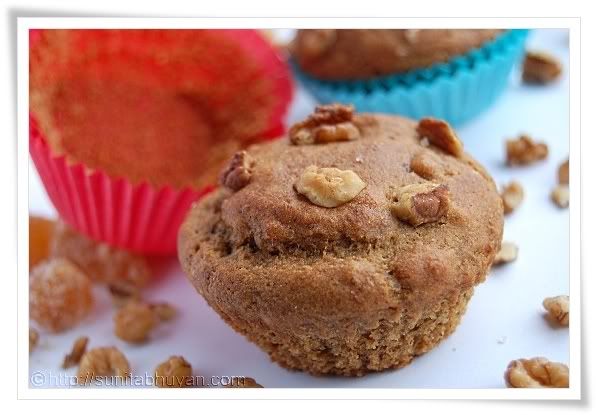 These cupcakes were really soft and spongy with a mellow sweetness. Rengoni did pick out the crystallised ginger but devoured the rest…as for Agastya, he loved the whole lot and so did I.