I am a total snack person. Rather than a very heavy meal, I love to nibble, a little at a time. Fruits (fresh and dried), nuts and yogurt help me fill up the gaps. One of my favourite fruits also happen to be clementines. Apart from being loaded with Vitamin C, it is also believed that the sweet aroma of this fruit is very calming .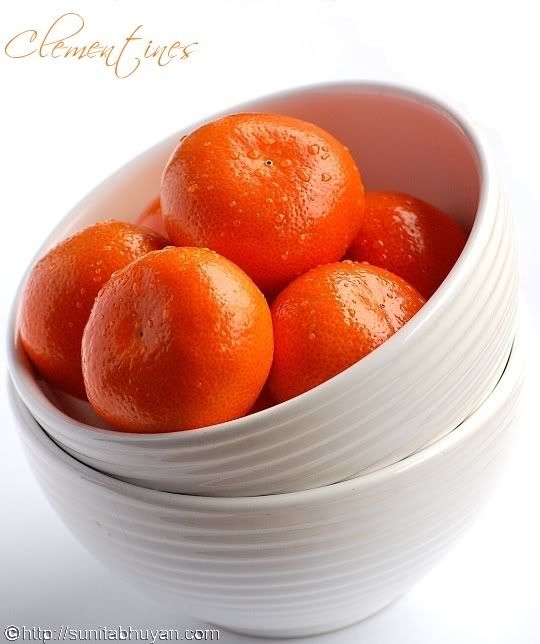 "Clementines are the tiniest of the mandarins. They are a cross between a sweet orange and a Chinese mandarin. clementines are small, very sweet, and usually seedless. Most people think of clementines as small tangerines, but they're a different variety entirely, with a distinctive taste. The Clementine is an excellent eating orange. Its small size and lack of seeds make it particularly popular with kids."(source)
As for Goji berries ( or Wolfberry), they are a relatively new addition. I have been on the look out for them, and found then recently in our local supermarket. Goji berries are hailed as a superfood.
In addition to being cultivated in China, Goji also grows on extensive vines in the sheltered valleys of the Himalayas in Tibet,and in Mongolia.The round, red Goji berries are very tender and must be shaken from the vine rather than picked in order to avoid spoiling. The Goji fruits are preserved by slowly drying them in the shade. The berry has been eaten locally in the Himalayan and Tibetan regions for centuries and is celebrated in festivals. The Goji fruit is nicknamed the "happy berry" because of the sense of well being it is said to induce.
Goji berries are powerful anti oxidants and contain a host of other health benefits…more here. They taste a little like raisins, though are much more drier. They can be eaten raw or cooked.
Apart from snacking on them in their raw form, I've been adding them to bakes as well…as in the following Clementine and Goji berry loaf. This loaf is best enjoyed after it has been allowed to rest for a while. I baked it at night, let it cool completely, wrapped it in foil and sliced in the morning.
What's needed-
4 clementines
1 and 1/4 C oat flakes and a little extra for sprinkling on the top
1/2 C ground almonds
3/4 C whole wheat flour(atta)
2 tsp baking powder
1/3 tsp bicarbonate of soda
4 tblsp Goji berries, hydrated in a few tblsp of warm water
1/2 C oil
6-7 tblsp of honey
1/2 C of milk
How to-
Scrub the clementines well, and place them on a pan of water over heat ( do not peel). Bring to a boil, reduce heat to medium and simmer for 30 minutes. Drain the water and chop the celementines (with the peel) and remove any seeds. Blend in a food precessor till nearly smooth.
Pre heat the oven at 180 deg C and line a loaf pan ( 8and 1/2 by 4 and 1/2 inch) with foil.
In bowl, whisk together the oats, ground almonds, baking powder and soda. Mix in the goji berries.
Add the oil and rub in with the fingertips.
Mix the honey and milk with the blended clementines.
Make a well in the centre of the oats mixture and tip in the clementine mixture. Fold in gently, preferably with a rubber spatula, til everything is moistened.
Tip the mixture into the lined pan and smooth the top. Sprinkle the extra oat flakes on top.
Place the pan in the centre of the pre heated oven and bake for about 40 minutes. Cover the pan loosely with a piece of foil and bake for another 15 minutes.
Place the pan on a rack and let the loaf cool in it for 2 minutes. Lift the loaf out of the pan very carefully ( it wil be a bit soft at this stage) and after removing the foil, cool completely on the rack before slicing.
This loaf really needs to settle down. So, as I mentioned earlier, it is best to make it at night, cool completely, wrap in foil and slice in the morning.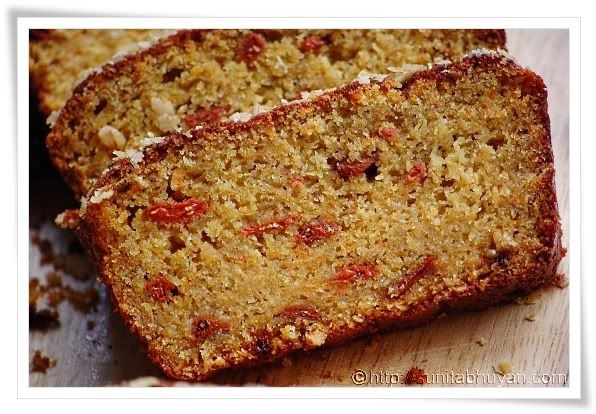 And in the morning, butter it up, as we did, and enjoy for breakfast.
A slice of the loaf would also be a great accompaniment with your evening cuppa.
Have a great weekend!