There are days when time hardly passes by… and then, there are days when the moments just whizz by. For the last couple of days, we've been experiencing the latter to a great extent. Well, with two active kids, time goes by quickly anyway…so speed that up some more and you have these last couple of days of ours.
Now, don't worry, I'm not going to regale you with all the gory details … but jump to the recipe, which is that of ginger chicken. Being extra busy has meant that I have had to compromise on the presentation front..but rest assured, the taste department was just fine…no compromises here. And I know that it tasted good , because my harshest and most honest critics(read D+R+A) were too busy devouring their meal than engaging in chit chat. Nowadays, whenever Dinesh goes exceptionally quiet during a meal, I know everything is fine…in fact the quieter , the better

As for the other two, they did manage to give two thumbs up… so without more ado, here goes…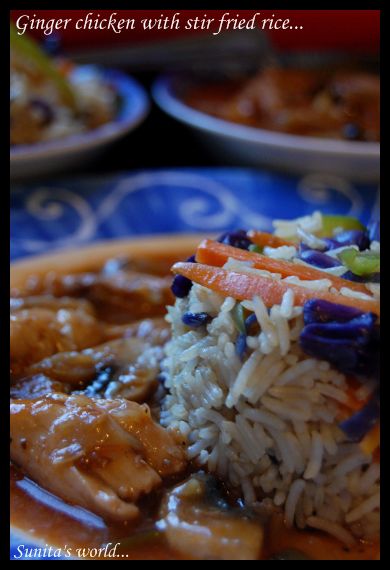 What's needed-
9-10 pieces of chicken thighs, skinned
5 glasses of water
1 large onion, chopped
3 tblsp of finely chopped ginger
5-6 spring onions, chopped
1 and 1/2 C chopped closed cup mushrooms
2 tblsp of oil
3 tblsp of vinegar
1 and 1/2 tblsp of tomato puree
4-5 tblsp of soy sauce
1/2 tsp sugar
4 tblsp of cornflour
salt and freshly ground pepper to taste
How to-
Boil the chicken in the water along with a little salt and pepper and the chopped onion till the chicken pieces are tender and the water reduces to nearly half (about 3 glasses)
Remove the chicken from the stock and tear away the flesh from the bones. Save the stock.
Heat the oil in a pan.
Add the chicken strips and the ginger and fry for 2 minutes.
Add the spring onions and mushrooms and fry for a few seconds.
Add the stock, along with the tomato puree, vinegar, sugar and soy sauce.
Mix the cornflour with a little stock and add to the rest.
Adjust the seasoning and simmer over low heat till the sauce thickens, stirring now and then.
That's it…remove from heat and serve hot with rice or noodles…we had ours with some stir fried rice….yum…and as I said earlier, there was silence at the eating table…the silence which I love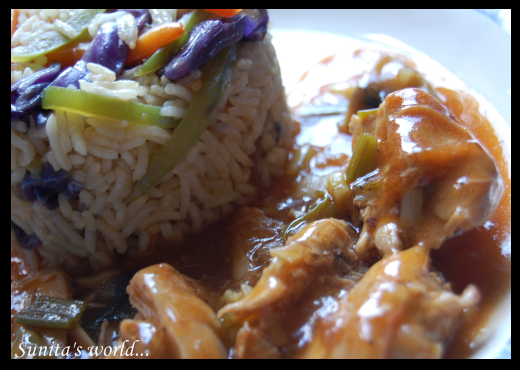 As you must have guessed already, this also goes to my event…