The weather has still continued to be kind to us. We're expecting a bit of rain tonight, but, I guess, I don't mind …it's the weekend after all…no early morning rush

I had made the following macaroni pasta in a mushroom and broccoli sauce, for dinner, quite a while ago. It is very similar to this recipe that I had posted earlier. The red in the following picture is not tomatoes, but the colour of one of the cheeses that I used- Red Leicester- cheddar works just as well.
This is an easy, yet yummy recipe…the pasta is not drowned in the usual red sauce, but a creamy one with the goodness of broccoli and mushrooms.
It also has a hint of heat from some crushed red chillies. Without much ado, here's the recipe-
What's needed-
2C of small macaroni pasta, cooked according to packet instructions
4 C of sliced close capped mushrooms
4C of medium sized broccoli florets
6 clives of garlic, chopped
1 medium sized onion, chopped
3-4 tblsp of extra virgin olive oil
salt + freshly ground pepper
1/2 tsp crushed red chillies( more or less)
1 tsp roasted and ground cumin
2 tblsp Italian seasoning
4 C of milk
3C of grated cheddar cheese( I used a mix of Red Leicester and Gloucester)
How to-
Heat the oil in a pan and add the mushrooms, broccoli, garlic and onion and season with salt and freshly ground pepper. Stir well, cover and cook for about 8-10 minutes, or till the mushrooms soften and juices begin to flow. Stir in between.
Add the cumin, chillies and Italian seasoning and stir well.
Add the milk, stir and bring to a boil. Simmer for 4-5 minutes.
Transfer the contents to a food processor and make an almost smooth sauce.
Pre heat the oven at 200 deg C.
Return the sauce to the pan over heat. Add the pasta, stir and bring to a boil. Simmer for a minute, stirring constantly.
Remove from heat and stir in half the cheese.
Place the contents in a baking tray ( I used individual bowls) and sprinkle the rest of the cheese on top. Sprinkle a little crushed red chillies andfreshly ground pepper over the cheese.
Place the pan in the centre of the pre heated oven and bake tilll the cheese melts, the top browns beautifully and the contents are hot and bubbly.
We loved the creamy texture and the slight heat and spice of the dish.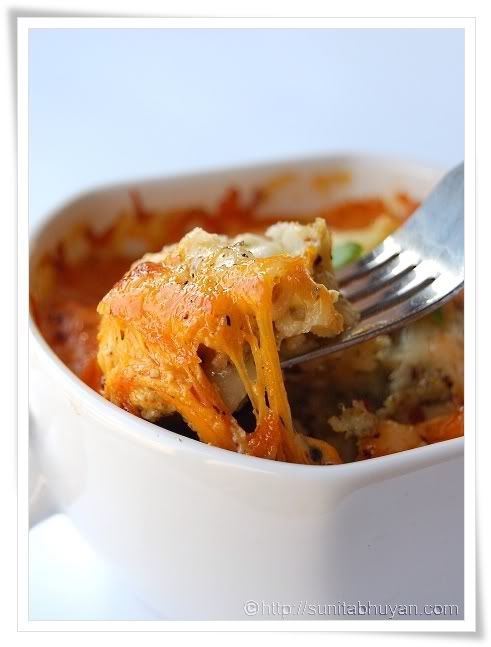 Just a quick note- Our broadband is playing up a bit, so if you find me a bit unresponsive to your comments and emails, you'll know why

I'm actually typing this post as fast as I can before I lose the connection again!
Wishing all you lovely people out there a great weekend!