The April 2009 challenge is hosted by Jenny from Jenny Bakes. She has chosen Abbey's Infamous Cheesecake as the challenge.
The month of April has been a bit crazy for us. I nearly missed joining in the challenge. In fact, I managed to get my act together just yesterday. But, I'm glad I did. And I also seem to have put on some extra pounds already…looking at it does add the pounds too, doesn't it ? But, seriously, I've been stuffing myself with much more cheesecake than I should….can't remember the last time I had so much of it. To be honest, cheesecake does not make it's ppearance in our household that very often; I've probably made it just three or four times. But, I'm really glad I made this one …it went down very well with us.
The recipe is actually quite easy and the best part was that we were given a great deal of freedom to experiment with different flavours. One could really let one's creative juices flow on this challenge. That, my juices were not as overflowing, is another matter altogether ! Here's the recipe we had to follow-
Abbey's Infamous Cheesecake:
crust:
2 cups / 180 g graham cracker crumbs
1 stick / 4 oz butter, melted
2 tbsp. / 24 g sugar
1 tsp. vanilla extract
cheesecake:
3 sticks of cream cheese, 8 oz each (total of 24 oz) room temperature
1 cup / 210 g sugar
3 large eggs
1 cup / 8 oz heavy cream
1 tbsp. lemon juice
1 tbsp. vanilla extract (or the innards of a vanilla bean)
1 tbsp liqueur, optional, but choose what will work well with your cheesecake
DIRECTIONS:
1. Preheat oven to 350 degrees F (Gas Mark 4 = 180C = Moderate heat). Begin to boil a large pot of water for the water bath.
2. Mix together the crust ingredients and press into your preferred pan. You can press the crust just into the bottom, or up the sides of the pan too – baker's choice. Set crust aside.
3. Combine cream cheese and sugar in the bowl of a stand-mixer (or in a large bowl if using a hand-mixer) and cream together until smooth. Add eggs, one at a time, fully incorporating each before adding the next. Make sure to scrape down the bowl in between each egg. Add heavy cream, vanilla, lemon juice, and alcohol and blend until smooth and creamy.
4. Pour batter into prepared crust and tap the pan on the counter a few times to bring all air bubbles to the surface. Place pan into a larger pan and pour boiling water into the larger pan until halfway up the side of the cheesecake pan. If cheesecake pan is not airtight, cover bottom securely with foil before adding water.
5. Bake 45 to 55 minutes, until it is almost done – this can be hard to judge, but you're looking for the cake to hold together, but still have a lot of jiggle to it in the center. You don't want it to be completely firm at this stage. Close the oven door, turn the heat off, and let rest in the cooling oven for one hour. This lets the cake finish cooking and cool down gently enough so that it won't crack on the top. After one hour, remove cheesecake from oven and lift carefully out of water bath. Let it finish cooling on the counter, and then cover and put in the fridge to chill. Once fully chilled, it is ready to serve.
What I did –
crust-
I used digestives ( Mc Vities)
cheesecake-
I used quark for the cream cheese
Dressing up-
I stuck to the basic recipe but added a chocolatey theme to my cheesecake or rather cheesecakes to dress them up …after all, chocolate does make everything better, doesn't it? Well, at least I believe so

I made one 7 inch cheesecake…and a few smaller ones in ramekins. I also made some crustless.
For the bigger one, I just decorated with a little whipped cream and chocolate shavings.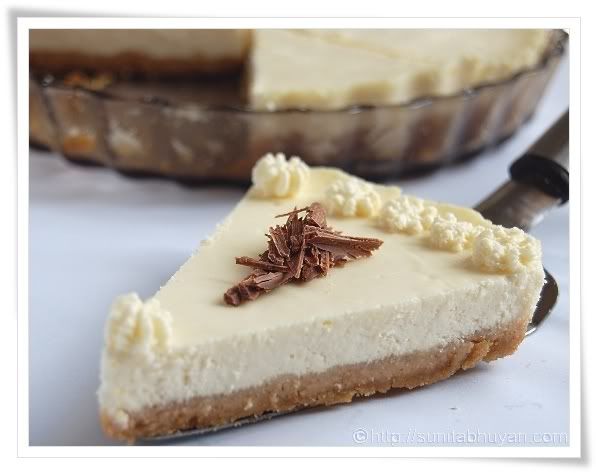 For some of the smaller crustless ones, I melted some milk chocolate and poured over them. When the chocolate was firm, I cut the borders neatly and turned them upside down, so that they looked like they were in chocolate cups.
For the little ones with crusts, I just drizzled some melted chocolate.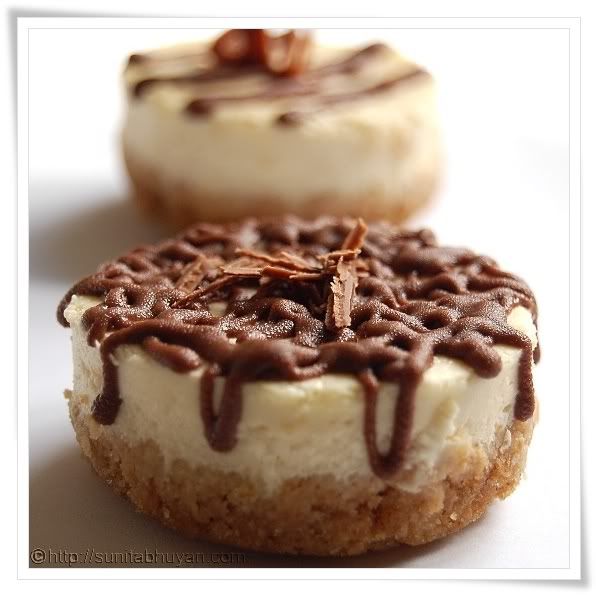 And I also kept one plain and added a little chocolatey touch.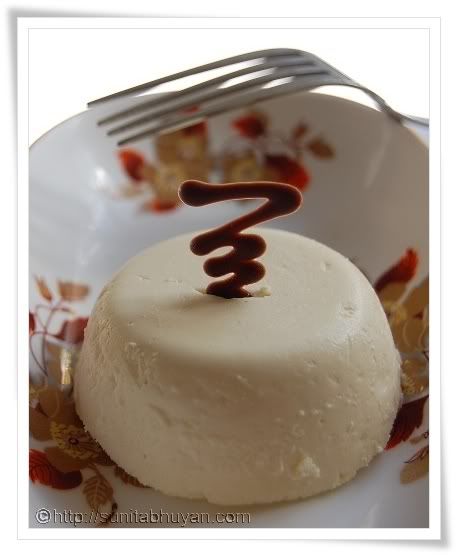 I did have various flavours in mind, when the challenge was announced, but, I guess, that will have to wait for another time!
As I said earlier, the cheesecake was a success with us. Even Dinesh, who is definitely not keen on cheesecake, actually had seconds. Rengoni absolutely loved it, and Agastya, well, he had a bit, which was okay, as he doesn't like it at all ! And I did tell you about me stuffing my face with it, didn't I ?

Enjoy!