…say Rengoni and Agastya whenever they like something, even managing to raise their thumbs up…at such times, Dinesh goes all quiet… says he was too busy relishing… and I can't help, but smile. Well, it all sounds so much better than the fiddling with the food, and Rengoni's very diplomatic "I don't like it , but I'm still eating…" and Agastya's straightforward "I don't like this…" and Dinesh's "It's fine"…of course I know it's not…
But, let's leave the disappointing moments and concentrate on the highs…the ones which receive the thumbs up and which makes my spouse go all quiet. Let's talk about a certain chicken curry which brings smiles around. However different kinds of chicken curry I've made, this is one of those which has never failed me with family and friends alike…and it doesn't take ages to prepare, either. It has a rich, thick gravy…one of those dishes that can be relished and indulged once in a while.
This time, we had it with some jeera (cumin) rice and some fresh salad and it was bliss. It was more like a treat really…we've been on a high recently…the kids seem to doing quite well at school ( a big sigh of relief !!!), as per their respective teachers … we had the dreaded parents evening yesterday… and to show a little appreciation , made this 'faaaavourite' chicken curry of theirs…a way of giving them the thumbs up. Without more ado, here's the recipe for the chicken curry in a saffron- yogurt gravy…
What's needed-
8-10 medium sized pieces of chicken, skinned
1 and 1/2 C of plain yogurt
a pinch of saffron strands
1 bay leaf
1 tsp cumin seeds
1 whole red chilli
3 cloves
1 inch stick of cinnamon
3 pods of cardamom
1 tblsp sugar
a paste of 2 large onions, 1 and 1/2 inch piece of ginger, 5-6 pods of garlic
1 tblsp cumin powder
1/2 tsp turmeric powder
chilli powder(according to the level of heat tolerance)
1 tbls tomato puree
1 tsp garam masala powder
6-7 tblsp of oil
salt to taste
How to-
Mix together the yogurt and saffron in a bowl and keep aside.
Heat the oil in a deep pan.
Add the cumin seeds, bay leaf, whole red chilli, cloves, cardamom and cinnamon.
When the seeds begin to splutter and the spices leave their aroma, add the tblsp of sugar.
When the sugar melts into a nice caramel colour (take care not to burn), add the onion-ginger-garlic paste , along with the turmeric and cumin powders and fry, stirring constantly over medium heat till the oil rises to the top and the whole mixture is not watery any more.
Add the tomato puree and stir for a few seconds.
Add the chicken, season with salt and cook covered, stirring now and then, till the chicken pieces are very nearly done.
Add the saffron-yogurt mixture to the chicken, stir and simmer till the chicken is done completely and the gravy thickens.
Add the garam masala powder, stir for a few seconds and remove from heat.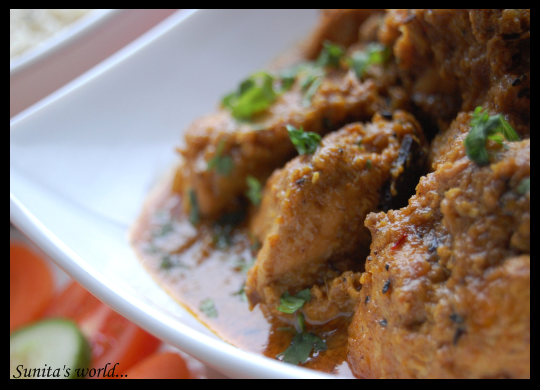 As I mentioned earlier, we had our's with some cumin rice and some fresh vegetable salad…and there were smiles all around. Now, did someone say, "mmmmm! my faaavourite…"?