Hope all of you had  a great start to the week. Ours is a sunny, but blustery one.
It does seem that one after the other, the parts of my body have started revolting…I must be growing old ! If you are wondering why I was missing in action again ( thanks again to those who mailed me in concern, regarding my disappearing act), for the last few days, the culprit has been one of my wisdom teeth. It had to be extracted, and the excruciating pain has been guilty of keeping me away from blogging. I had no idea it would be so bad. Of course, the kitchen hasn't been deprived of any activity, for the family still needs to be fed, doesn't it? But it has mostly been hearty one pot dishes.
Yesterday, as I was feeling a little better, I thought of treating everyone with a pot of biryani. Again, a one pot dish, but a very special one. As lamb was present in the freezer, I used it to make some lamb biryani.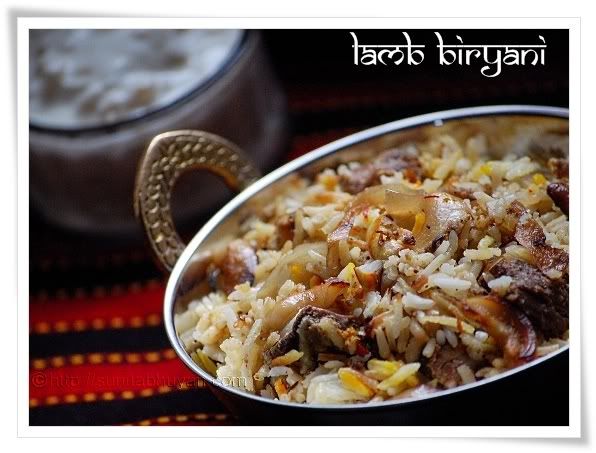 Biryani is basically a rice based dish  layered with meat or vegetables. It does sound a bit daunting and conjures up images of slaving in the kitchen. But, like every other such recipe, it just needs a bit of organisation. Try it sometime, and the final product will make the effort worthwhile. The following is not a quickie version and it is also not 'the' version of biryani. This is how I make it, keeping the basic idea in mind.
Although I have used lamb; chicken, egg or any other vegetarian curry can also be used. Follow the rest of the steps and instead of the lamb curry, add your own vegetarian one. I have made biryani with a chickpeas curry and it tastes wonderful too. So, there is no reason for my vegetarian friends to fret at all

What's needed-
2 C of basmati rice , half cooked in water, rinsed in plenty of cold water ( to prevent further cooking and strained completely
a pinch of saffron strands, soaked in 1/2 C of milk
1 finely sliced onion, lightly browned in a tsp of oil with a cup of cashew halves and kept aside
For the lamb-
800gms of lamb (I used shoulder), cut into bite sized pieces
5-6 medium sized potatoes, scrubbed well ( can peel them if you wish) , and lightly scored all over
3/4tsp turmeric powder
2 bay leaves
1 whole red chilli, halved
1 tsp cumin seeds
1/2 tsp chilli powder ( more or less)
3-4 tblsp of oil/ghee
Hot water
To be made into a paste-
2 onions, chopped
1 ripe tomato, chopped
5-6 cloves of garlic, peeled and halved
2 inch piece of ginger, peeled andchopped

To be roasted and ground to a powder-
5 cardamoms
4 cloves
2 inch piece of cinamon
1 and 1/2 tblsp of fenel seeds (saunf)
How to-
Heat oil in a pan and add the bay leaves, red chilli and cumin seeds. When the seeds begin to sizzle, add the ground paste ( onion, ginger, garlic, tomato). Add the turmeric, freshly ground spice powder and chilli powder and stir constantly till the moisture evaporates and the mixture is lumpy.
Add the lamb and potatoes and season with salt. Stir and cook over medium heat till the meat is nicely browned.
Pour in hot water, nearly to the top of the rest of the ingredients. Bring to a boil, reduce the heat, cover and simmer till the meat is done, stirring occasionally ( I used the pressure cooker at this stage and cooked for about 7-8 whistles. If you're using the same, check after 4-5 whistles and cook till the meat is done.) Add more water if needed.
Stir over high heat to thicken the gravy ( it should be quite thick). Remove from heat and keep aside.
In a  thick bottomed pan, layer 1/3 each of the rice, meat and potatoes ( along with the gravy), onion and cashew mixture ( in this order) and drizzle 1/3 of the saffron milk. Repeat this with the rest, till everything has been used up.
Cover the pan with a tight fitting lid and place it over low heat. Cook for about 25-30 minutes or till it leaves it's aroma and the rice is cooked through. Do not stir. Remove from heat and let it sit for at least 10 minutes before serving, to develop the flavours. It might stick a little at the bottom, but we do get takers for that too
Serve hot with raita.
As I mentioned before, oreganisation is the key to making this recipe. This is how I go about-
Soak the saffron in the milk and keep aside
Ready the spice paste, and the powdered spices.
Start cooking the lamb. While the lamb is cooking, fry the onion/cashew mixture and keep aside.
Now half cook the rice, strain and keep aside.
When the lamb is done, start layering in the thick bottomed pot.
Cook everything together.
As one opens the lid, the first thing that strikes ones nostrils is the wonderful aroma. Then, the eyes take in the scene and the grains of rice speckled with the saffrony hue, golden cashews and translucent onions is a beautiful sight to behold. Digging out ladlefuls of the rice along with the rest of the ingredients and transfering it to a plate…irresistable!
We had platefuls of the aromatic biryani with dollops of boondi raita for a filling and laid back Sunday lunch.