The other day, Rengoni came over and handed me a small badge belonging to the Junior Red Cross ( from my school days)… apparently it had fallen out of the packet containing bits and bobs from my past, which I had been tidying away. She then asked what I was going to do with it, and I replied that I was going to save it as I've done for so many years. This was followed by her wanting to know as to what will happen to it when I grow old and die…and before I could answer, she told me not to worry and offered to take it to her house and save it, after the inevitable happened … some comfort huh?!!!
Talking of comfort, all four of us dearly love our pasta…well probably most of you do as well. A bowl of hot pasta with an assortment of vegetables or with a nice sauce over it, or made as a cold salad in the summer is an ideal , comforting meal in itself. And yes, probably the best thing about pasta is that, vegetarian or non vegetarian, the possibilities are endless… and I really adore such ingredients.
I made this dish a couple of days ago with some riccioli pasta, but others like fusili or penne would do just fine. Here's the recipe for the vegetable and cheese riccioli bake…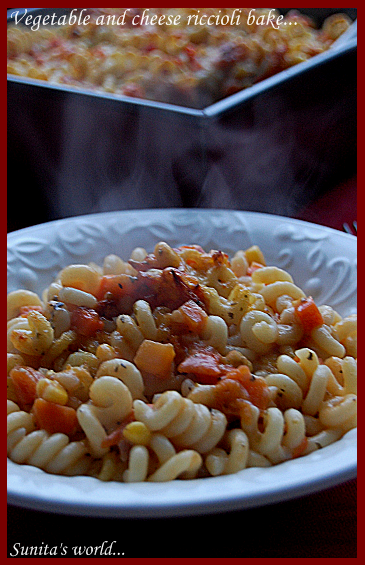 What's needed-
350 gms riccioli( or fusili/penne) pasta, cooked according to packet instructions
2tblsp of olive oil
2 carrots, cubed
1 onion, finely chopped
3-4 pods of garlic, finely chopped
1 C of sweetcorn
1 red pepper, deseeded and chopped
4 tomatoes, chopped
salt and freshly ground pepper
1 and 1/2 tblsp of like oregano
a pinch of crushed red chillies
200 gms of cheddar cheese, grated
2 and 1/2 -3 glasses of vegetable stock
1/2 tsp cornflour
How to-
Pre heat the oven at 200 deg cel.
Heat the oil in a pan and cook the onion, garlic, carrots, red pepper and sweetcorn for a couple of minutes or till the onions are translucent.
Add the tomatoes, season with salt and pepper and add the oregano; cook for a couple more minutes.
Add the stock, bring to a boil and simmer for 2-3 minutes.
Mix the cornflour with a little water and add to the pan.
Add the pasta and half of the grated cheese, mix well and simmer for about a minute.
Transfer everything to a deep baking dish and sprinkle the rest of the cheese on the top.
Place the dish in the centre or the pre heated oven and bake till the cheese melts and the top is slightly browned.
Serve hot on it's own or with some fresh salad.
We had bowlfuls of the pasta on it's own…nice and hot , straight from the oven…and like always, it disappeared in no time at all!!! So I'm sending it over to Ruth for her Presto pasta nights
Enjoy and have a nice weekend!!