Hope all of you had a nice weekend. Ours was good too and most of it was spent outdoors. There is still a slight chill in the air, with blustery winds, but it's still nice with the sun shining.
Yesterday evening was spent in decorating biscuits, for the kids to take to school for a charity event. Of course, they helped too,though probably much of the decorations also made their way into their mouths instead of the biscuits

Our tiny veggie patch is thriving too, and shooting up…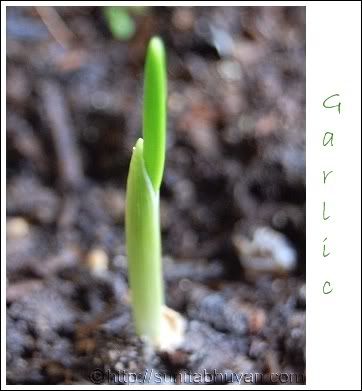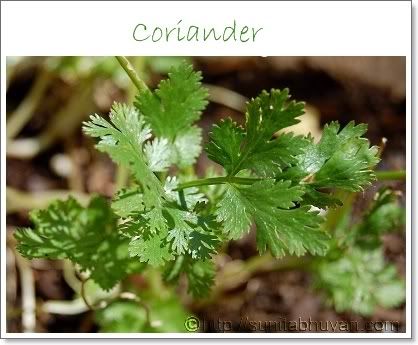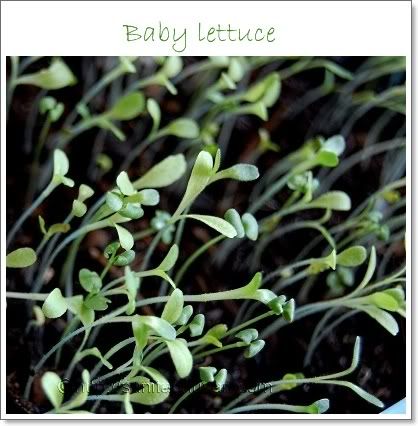 and the birdies are paying their daily visits…
On Friday, I also made a sheet of eggless sponge cake, which I'm quite pleased about. The inspiration for this cake came from here . It is very, very simple, to rustle up and which can be filled and topped according to your fancy. The cake was just as it should be…well, spongy

Although I made it in one pan (10 and 1/2 by 13 and 1/2), you can make two in 8 inch round pans and use them as two layers. The following is the basic recipe for the eggless vanilla sponge. I filled and topped with some mascarpone cheese and dried blueberries. The cake was done in less time than mentioned.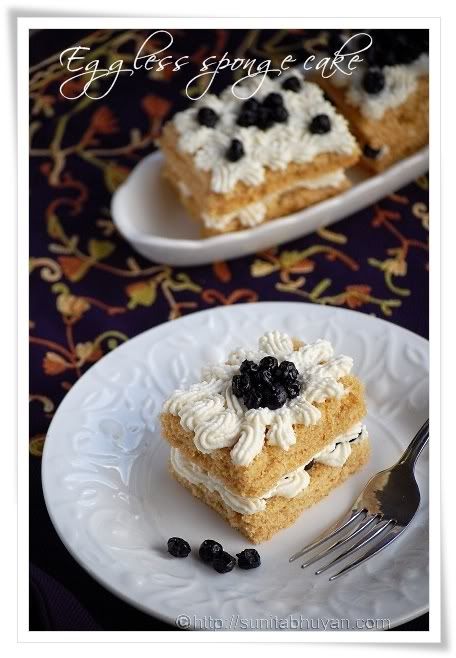 What's needed-
1 and 1/2 C of whole wheat flour (atta)
5-6 tblsp of sugar, powdered ( I used raw cane sugar)
2 tsp baking powder
6 tblsp of sunflower oil
1tsp vanilla essence
1C of water
How to-
Pre heat the oven at 180 deg C and line a baking pan of (10 and 1/2 inches by 13 and 1/2 inches) with foil. **You can also make two sponges in 8 inch round pans and use them as two layers.
In a bowl, whisk together the flour, sugar and baking powder.
Mix together the water, oil and vanilla in another bowl. Tip this mixture into the flour mixture and mix everything together, preferably with a wooden spoon, till smooth.
Tip the mixture into the prepared pan and smooth the top. Tap the pan against the counter a few times.
Place the pan in the centre of the pre heated oven and bake for about 20- 22 minutes or till the edges begin to brown slightly, and the centre of the cake is springy to the touch.
Lift out the cake and trim the edges. Divide into four, remove the foil, and transfer to a rack to cool completely. Cut each piece into four again. Use the pieces of sponge upside down and fill and top with your choice of ingredients. As I said earlier, I did mine with mascarpone cheese and dried blueberries. **This step is not necessary ( except using the cake upside down). I did it as it was easier to take the pieces out of the pan. moreover, I was going to make them into individual servings anyway. You can just  remove the foil, cool and decorate.
That's it! A light, spongy , sponge cake ready in minutes. Dress it up as you want  and you have a gorgeous dessert. The cake, on it's own, is not too sweet either. We loved it and enjoyed as after dinner desserts.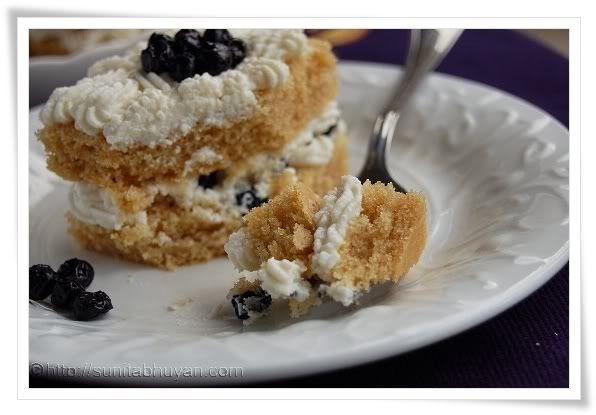 There! Now, don't ever say that I didn't wish you a sweet start to the week