Hmm, just a couple more days for the long weekend and the kid's half term. Yaay! I just hope that the weather holds up!
I am actually quite excited since the last couple of days. There was this girl with a cheeky grin, who was in my class in school. She used to tell the funniest jokes and was probably the most unconventional friend ever…her taste was always different to ours, her mind was always somewhere else in the distant horizon, dreaming of all sorts of exciting experiments. If you sat next to her in class, you've got to be on your guard…for it was always a struggle to stifle a giggle. Life was never boring with her around.
But, then, it was finally time to leave school and we  all went our separate ways. And then, after nearly two decades of losing touch, there she was! We are still to meet face to face, but we've been exchanging messages. She's been doing  things befitting her…she was always beyond the clouds and now, as she flies her plane, she is where she belongs. Well done E ! I'm so proud of you. May you reach the stars next…if anyone can, it's definitely you !
After all that emotion we need a hearty meal

  I made some  mini cumin and sundried tomato naans the other day. Ever since I started making my own, store bought naans have not made an appearance. I have made them quite a few times now, and have also stuffed them as well. This time I infused the naans with cumin and sun dried tomatoes.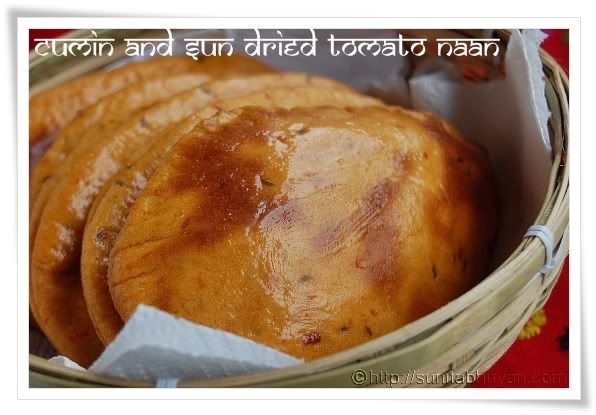 What's needed-
4 C of whole wheat flour (atta)
2 tsp fast action dried yeast
2 tblsp cumin seeds
2 tblsp cumin powder
1 tsp crushed red chillies
2 tsp salt
1/2 tsp sugar
4 tsp sundried tomato paste
5 tblsp low fat natural yogurt
1 and 3/4 C of hand hot water ( more or less)
How to-
In a large bowl, whisk together the  flour, sugar, salt, yeast, cumin seeds, cumin powder, crushed red chillies.
Add the sundried tomato paste and rub into the flour mixture.
Make a well in the middle of the flour mixture and tip in the yogurt and 1 C  of water. Start kneading and add more water as necessary to form a smooth and supple ball of dough. You may or may not need the whole of the 1 and 3/4 C of water.
Place the dough in an oiled bowl and cover the bowl loosely with an oiled plastic wrap. Leave the bowl, in  a preferably warm place  for about 1- 1and 1/2 hours or till doubled in volume.

Place a baking tray or pizza stone on the upper rack of the oven. Now, pre heat the oven at 250 deg C.
Knock down the  dough with your knuckles and knead for a few more minutes. Divide the dough into 19-20 equal portions and shape into balls. Roll out a few of the balls ( my tray could fit 3 at a time) into a triangular shape of about 2mm in thickness. **Keep the rest of the dough covered to prevent drying out.
Open the oven. With wet hands, transfer each rolled out naan from one hand to the other and place on the hot tray/pizza stone.
bake for about 5 minutes or till the top starts to brown and puffs up.
Transfer to a rack and brush th tops with some melted butter/ghee.
Serve hot with some curry or even just with some raita/plain yogurt or pickle.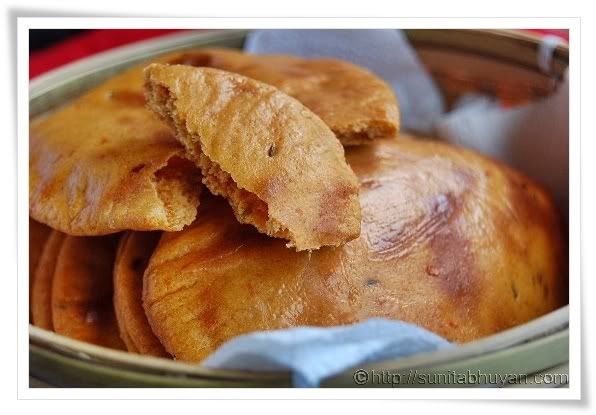 We had ours with some yummy potato curry.
Yummy!
Related posts-
Plain naan
Vegetable stuffed naan