There has been a bit of quietness in this space for the last few days. Sorry, if you came looking for something new and the space was not refreshed. You see, it's the kids' half term in full swing. It was also the long weekend for Dinesh and we all went to pay a long overdue, return visit to a dear friend's. The day was gorgeous with clear blue skies,
birds flying high,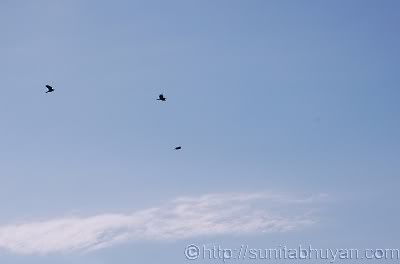 lovely fields,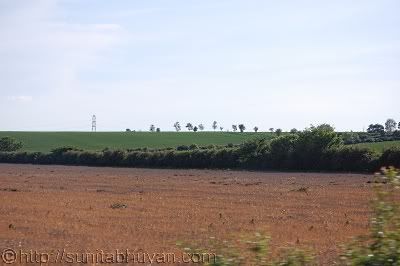 balloons in the air,

…yes, it was a wonderful drive!

After a lot of chatter and food, we are back; Dinesh is back in his office, and the kids and me are at home for the rest of their half term ( the rest of this week).
I had wanted to post this potato curry recipe along with the naans in my last post. Call it laziness or whatever, I didn't, and some of you did mention it, so here it is. Bilahi – aphoo aloor torkari ( tomato – poppy seeds potato curry).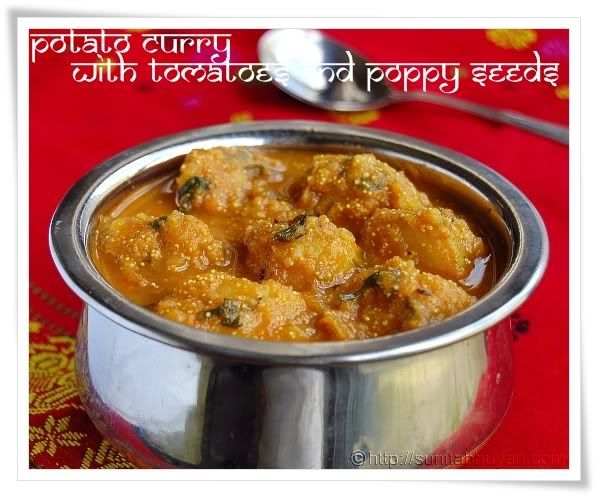 What's needed-
3 tblsp of white poppy seeds soaked in water for half an hour
12-15 Jersey Royal or small sized potatoes, halved and boiled ( I kept the skin on and scrubbed them well before boiling)
2 ripe tomatoes, chopped
1 medium sized onion, chopped
4-5 cloves of garlic, peeled and halved
1 inch piece of ginger, peeled and chopped
1 bay leaf
1 tsp cumin seeds
1 whole red chilli, halved
1 tsp turmeric powder
2 tsp cumin powder
1 tsp garam masala powder
hot water
a small bunch of coriander, chopped
How to-
Pulse together the drained poppy seeds, tomato, onion, ginger and garlic.
Heat the oil and add the bay leaf, cumin seeds and red chilli halves. When the seeds splutter, add the tomato mixture along with the turmeric and cumin powder. Stir constantly over medium heat till the moisture evaporates and the mixture is lumpy.
Add the potatoes and season with salt. Stir for a few minutes till the potatoes are well coated with the spices, and they are slightly coloured.
Add hot water till three fourths of the potatoes are under it. Bring to a boil and simmer, stirring now and then, till the gravy thickens. Add the garam masala powder and coriander, stir for a minute and remove fom heat.
Serve hot with rice or any Indian flat bread.
We had ours with some cumin and sundried tomato naans.
Enjoy!