A very happy new year to all my readers and welcome back to my world. I hope all of you have had a wonderful holiday season and are now all geared up to start another era of blogging. As for me, I'm all set to start the next chapter of Think Spice. You have all been wonderful contributors and I hope you will continue to do so in the coming months as well. It's been really nice to learn all the varied ways in which we use the same spice.
Without more ado, let me introduce the spice that is going to hold the centre stage for this month(January). Ladies and gentlemen, during this first month of the new year, I would like you to think of the pungent spice called garlic…
the spice that I, for one, simply can't do without. I have seen many people being averse to this spice, but I just adore it…whether it is a curry or soup or pasta, I make sure that this spice makes it's presence felt. Now for a little bit of trivia,
Allium sativum L., commonly known as garlic, is a species in the onion family Alliaceae. Its close relatives include the onion, the shallot, and the leek.
Garlic has been used throughout recorded history for both culinary and medicinal purposes. It has a characteristic pungent, spicy flavor that mellows and sweetens considerably with cooking.
A bulb of garlic, the most commonly used part of the plant, is divided into numerous fleshy sections called cloves.The parchment-like skin is much like the skin of an onion, and is typically removed before using in raw or cooked form.
Garlic has been used as both food and medicine in many cultures for thousands of years, dating as far back as the time that the Egyptian pyramids were built. Garlic is claimed to help prevent heart disease including atherosclerosis, high cholesterol, high blood pressure and cancer.
Animal studies, and some early investigational studies in humans, have suggested possible cardiovascular benefits of garlic
Garlic is also alleged to help regulate blood sugar levels.
From my own experience, garlic infused mustard oil is also very good to ward off colds. I remember my ma rubbing the oil on the soles of my feet and legs, the palms of my hands and arms and massaging on my back as well as a little near the nostrils (great for those clogged ones), before going to bed. When I became a ma, I too did and still do the same to my little ones, and it really does wonders.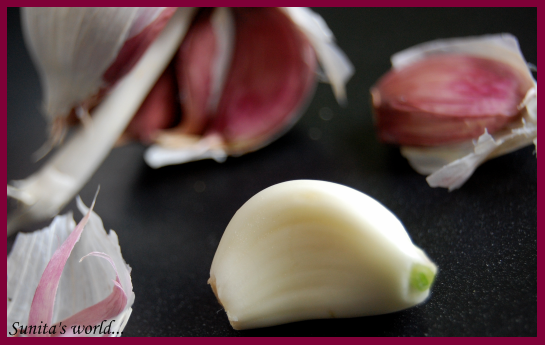 I've also seen deuta (my father) chewing raw cloves of garlic at meal times when he was suffering from high blood pressure and diabetes, as it was good for those conditions.
With so many benefits under it's wing, I hope you will not hesitate to give this amazing spice a try, even if you're not a fan. Believe me, once you start to discover the amazing flavours that it gives rise to, you will not be able to do without it. If you're already on it's side, great! If not, maybe you should give it a chance. So, during this month , when you think of any spice, think of garlic…in other words, Think Spice…think garlic. Please refer to the guidelines for participation here.
Now for the round up of Think Cinnamon. My mailbox has been overflowing with all those goodies that have been churned out during this holiday season, all with the warm cinnamony aroma. As usual, I have categorised them and hope that I have included every post…but in case of an error, please do not hesitate to drop me a mail.
Drinks…..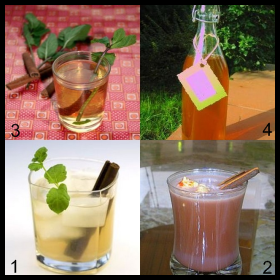 Side dishes (veg+non veg)…..
Rice dishes…..
Cakes…..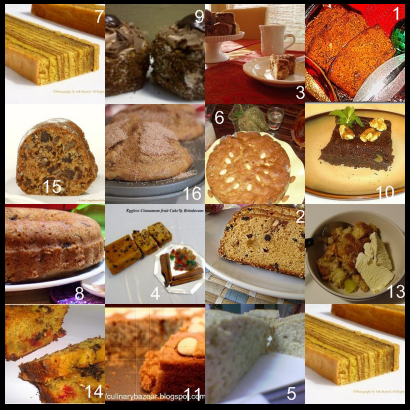 Cookies…..
Desserts….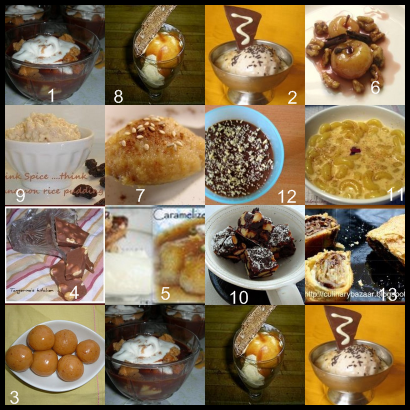 Miscellaneous…..
That's it for now…looking forward to your garlicky entries