By now, after the holidays, most of you must have settled down to your usual routines… gone back to the daily grind. Dinesh too has gone back to work a couple of days ago and the kids' school will reopen on Monday.
I know it sounds a bit cliched, but time does seem to fly by in the flutter of an eyelid. The last couple of years, we have always been on holiday during this time. This is the first year all four of us have been together at home for so many days (well, a fortnight, to be precise), and we've really enjoyed it. We've taken each day as it came, lazying away, as if we had all the time in the world…no rushing, no scurrying…just whiling away the days. The other day, Dinesh noted how he had never been so relaxed after holidays, and went back to work on a high.
Around this time, there was a first for Rengoni. Just before the holidays, she lost her first baby tooth, and boy, was she glad! For the last few months, one or the other of her friends have been losing theirs, coming to school and proudly showing off their gaps. Rengoni probably thought that she was never going to lose any of hers, and kept checking constantly for any signs of dental movement. Unlike her, I was not worried…well, being August born, she is the youngest in her class and some of her mates were older to her by nearly a year, and that's how I tried to pacify her. Anyway, she is happy now… well, in fact,I have never seen a gap toothed person so joyous before.
Rengoni and Agastya (both of whom were unwell during the last few days of their school), now look fresh and ready to start another chapter of their school life. Well, coming Monday, it's definitely going to be quite sober round the house during the day…I hate coming back to it on such days…opening the door to find no one laughing (or squabbling!), hiding in corners and surprising me from behind…making simple demands. But then, I will probably console myself, as I always do, that, at least, they enjoy going to school and are happy there.
Now, lets get back to the eating front. I made this sweet potato and vegetable pie some time back.
It consists of an olive oiled whole wheat and spinach crust; a filling of assorted vegetables and a topping of boiled and mashed sweet potatoes with herbs and spices. The ingredients mentioned below yielded one 8inch and two 4 inc pies. It may seem to be be a long recipe, but actually, it doesn't take much handling time and can be put together at ease.
What's needed-

For the crust-
2 C wholewheat flour
3 handfuls of fresh leaf spinach
1/3 C of olive oil
1 tsp salt
For the filling-
1 C small broccoli florets
3/4 C sweetcorn
1 yellow pepper , chopped into small pieces
1 small red onion, finely chopped
3 pods of garlic, finely choped
2 tbls olive oil
salt and freshly ground pepper to taste
For the topping-
500 gms of sweet potato, peeled and chopped
1 tblsp dried sage
1/2 tsp ( more or less) crushed red chillies
salt and freshly ground pepper to taste
Others-
100 gms of cheddar cheese, grated
How to-
The crust-
Pre heat oven at 190 deg C.
Mix all the ingredients together and place it in a food precessor.
Pulse till the mixture resembles fine crumbs.
Take 2/3 of the mixture and press against the bottom and up the sides of an 8 inch flan dish. Divide the rest of the mixture equally between two smaller 4 inch cases and repeat the same.
Very gently, prick all over with a fork.
Place in the centre of the pre heated oven and bake the cases for 10-12 minutes.
The filling-
Heat the oil in a pan.
Place all the ingredients and season with salt and freshly ground pepper.
Stir fry for a minutes or till the onions are translucent but the rest of the vegetables are still have their crunch. Keep aside.
The topping-
Place the sweet potatoes along with a tblsp of water in a a microwavable bowl and prick all over with a fork.
Cover the bowl loosely with cling film and microwave for about 6-7 minutes or till soft.
Add the rest of the ingredients and mash till smooth. Keep aside.
To assemble-
Pre heat the oven at 190 deg cel.
Divide the filling among the three pans and spread it out over the crust.
Sprinkle 1/2 of the grated cheese over the filling.
Top with the sweet potato mash…either pipe it or just spread it on top.
Sprinkle a little more crushed pepper over it.
Bake in the centre of the pre heated oven for 20-25 minutes or till the cheese melts and the top is slightly brown. (note:bake the smaller ones separately )
Slice and serve hot on it's own or with some fresh salad.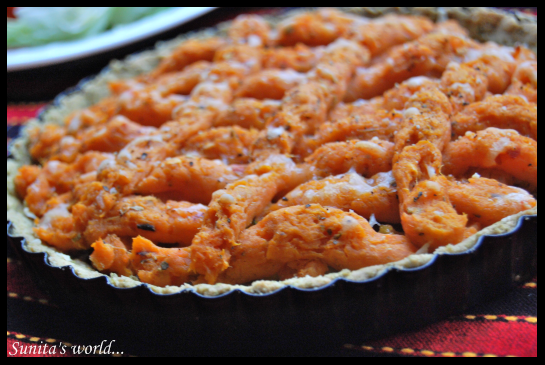 As for the results, we loved it. It was a very filling dish and the spicy sweetness of the potatoes with the crunch in the vegetables was much admired. The crust was nice and crumbly as well.