Yes, it's back to the grind …no more catching those extra minutes of sleep in the early hours of the morning . The kids went back to school today, and there was no room for idling. After such lazy holidays, one really has to push oneself to get back into the rhythm of things.
But, it's been a wonderful day today…perhaps a little too windy, but it felt nice as the three of us cycled through the familiar path to the kids school. Nice to see those familiar faces too… some of them are just faces for us, but whom we pass by every day and return familiar smiles. And of course, on the way, Rengoni and Agastya were calling out cheerfully to those friends whom they passed by.
On reaching their school playground, both went, as they always do, in different directions, to catch up with their friends.Looking at all the children , it would seem as if they have been apart for ages….well, at their age, probably two and a half weeks does seem like that.
For a change, I didn't have to watch my step in the house today for any car or superhero or dolly accessories strewn over the floor for fear of tripping over them… for, they were right where they should be. But then , as one of the moms said today, when I asked how she felt to come back to the routine"I've got my house back, but will really miss the children"… I couldn't have agreed more.The only downside to the day is the eerie silence pervading the house… well, it's back to the sound of the telly for company !!
Now, last week, I made these cheesy bites, which are, well, cheesy cookies

I used Red Leicester cheese ( an English cheese , originally from Leicestershire in England), which has a bright russet gold colour with a slightly open texture and mild lemony flavour.
The colour in this cheese comes from the addition of annatto extract during manufacture. Red Leicester cheese is made in a similar manner to cheddar cheese, but is crumblier. Although, there will be a slight difference in taste, cheddar cheese could also be substitited for the other in these cookies. The recipe, which is a very simple one, is, as follows-
What's needed-
1C wholewheat flour
1/2 C plain flour
1/4 tsp bicarbonate of soda
3/4 tsp salt
1/2 tsp sugar
1/2 tsp nigella(kalonji) seeds
100 gms of Red Leicester (or cheddar) cheese, grated
3and 1/2 tblsp of yogurt
1/4 C oil
How to-
Pre heat the oven at 170 deg C and line a baking tray with parchment.
Place the first six ingredients in a bowl and whisk together.
Add the cheese and whisk again.
Add the oil and yogurt, one after the other and mix lightly with your fingertips till everything comes together…do not knead.
Pinch out 40 portions of the dough and shaping them roughly into balls, place them on a baking tray, a little apart from each other.
Flatten them with the back of a fork, both horizontally and vertically.
Place the tray in the centre of the pre heated oven and bake for approximately 20-22 minutes or till slightly golden round the edges.
Cool for a couple of minutes on the tray and the transfer to a wire rack to cool completely before storing in airtight containers.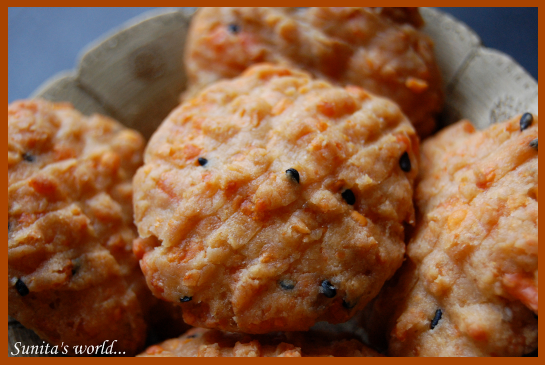 These little crispy cheesy bites were really addictive and the pungency of the nigella seeds complemented them very well. Great if you're looking for a savoury treat to nibble on!!