"Mummy, don't you blog anymore?" asked Rengoni. "This tastes great! Have you taken a picture?", asked Dinesh. As for Agastya, yes, he too joins in with his two cents!
Over the last two and a half years, blogging has become such a part of my life, and of course the other three quarters of my family, that a few days of inactivity does raise quite a few eyebrows. Yes, I have been going through and replying to the lovely messages that  you left during this time. But, somehow, couldn't bring myself to post anything. Every time I make something which we like, the feeling of posting about it does cross my mind, but it just stops at that. I wouldn't particularly call it a writers' block, but just a little distraction. Quite a few things have been going on, and somehow this dear space of mine has not been updated for a while. But I hope, "this too shall pass".
To set the ball rolling again, here's some hot and sweet mango crumble.
The very mention of mangoes brings back to my mind, all those Indian summers, when the markets would be flooded with these yellow beauties.
Here, in the UK, we do not get them in abundance, but we relish whatever few we can get hold of. Of course, mango does not need to be dressed up at all. We adore the sweet, fleshy fruit in it's most natural form. Apart from this, the best way I like it is to make a crumble. Soft fruit adorned with spices, and covered with a crumb topping…yumm!
What's needed-
2C of chopped, ripe mango
1/3 tsp cinnamon powder
1 tsp crushed red chillies
For the topping-
1 and 1/2 tblsp of whole wheat flour (atta)
4 tblsp of slightly coarsely ground almonds ( I used 3 tblsp of ground almonds + 1 tblsp of wholewheat bread crumbs, as I ran out of ground almonds)
1 and 1/2 tblsp of dark brown sugar
1tblsp of sunflower or vegetable oil


How to-
Pre heat the oven at 170 deg C.
Mix the mangoes lightly with the cinnamon and chillies.
Rub together all the ingredients for the topping, with fingertips.
Divide the mango mixture among four ramekins ( mine are 3 inches in diameter and 2 inches in height), and sprinkle the topping over it.
Tap the ramekins on the counter. Arrange them on a baking tray. Place the tray in the centre of the pre heated oven and bake for about 20-30 minutes or till the top is nicely browned and the fruit is bubbly.
Serve warm or chilled.
There! Wasn't that easy? Of course, if mango is not available, other fruits can be used in the same way too. If your fruit is too tart, add a bit of honey.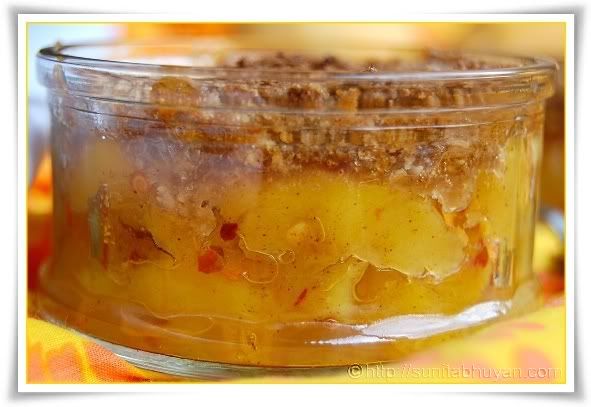 The rain in our neck of the woods has brought down the temperatures. We loved the warmth from the crumble. The bite from the topping, the sweetness of the fruit and slight heat from the chillies was a pleasure to the senses.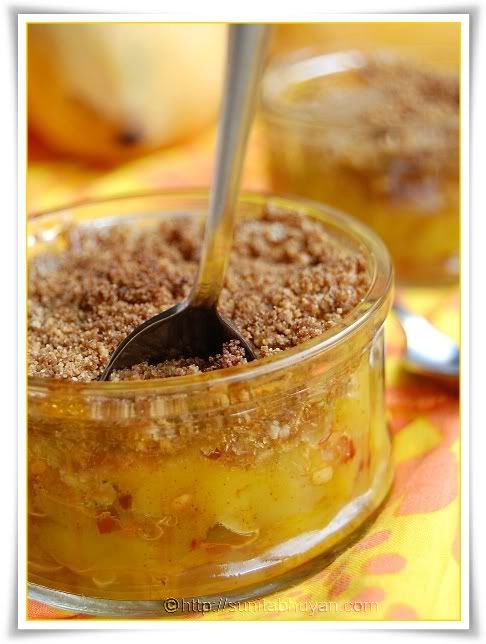 Take care, and I hope to come back soon with something else to entice you all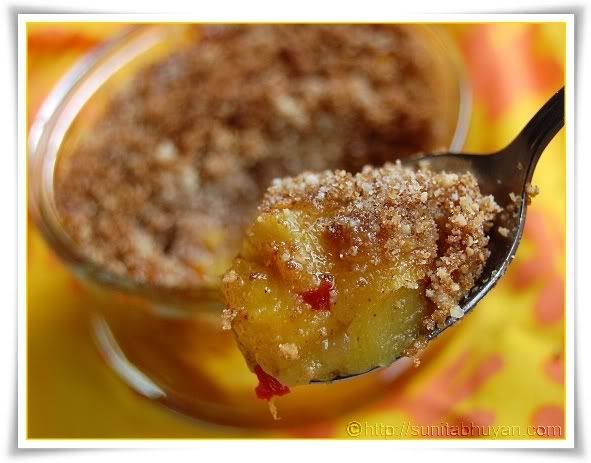 Related post-