It's bright and sunny today, the temperatures are soaring, and the weather lady has made similar forecasts for the weekend too. I'm glad about that as we've got a few things lined up for the weekend, which has me really excited. Will tell you all about it later.
But the last few days it has been another story altogether. Overcast skies, sudden heavy showers have plummeted the temperatures. It has been chilly, felt more like autumn than summer. It was on one such night that I made the following roasted vegetables.
The aroma emanating from the oven and gradually spreading round the house, as the vegetables were being roasted with spices and herbs, was to die for. It is an easy dish to put together, is full of flavours, and can be had on it's own as a salad or as a side dish.
What's needed-
13 small new potatoes, halved and boiled till just tender
1 tomato, chopped
1 yellow pepper, deseeded and chopped
3-4 cloves of garlic, slightly crushed
3 tblsp of chopped rosemary
1 tsp crushed red chillies ( more or less)
1 and 1/2 tblsp pf roasted and roughly ground cumin ( using cumin powder does not give the same earthiness)
1/4 tsp turmeric powder
3-4 tblsp of olive oil
salt and freshly ground pepper to taste
How to-
Pre heat the oven at 250 deg C.
Place all the ingredients on a baking ray and toss well till the vegetables are coated nicely with the herbs and spices. Spread out in a single layer, especially the potatoes.

Place the tray in the top rack of the pre heated oven and bake for about 20 -25 minutes or till the potatoes are nicely browned and the tomatoes loose their shape. Give the vegetables a toss or two in between.
Serve hot on it's own or as a side dish.
That's it! A bowl of warm , aromatic vegetables are now ready to be devoured. The juiciness of the peppers, the warmth of the potatoes, the mingling of the tomatoes with the rest and the addition of the herbs and spices was a delight. A simple dish but full of flavours. We had some pan fried salmon on a bed of the vegetables.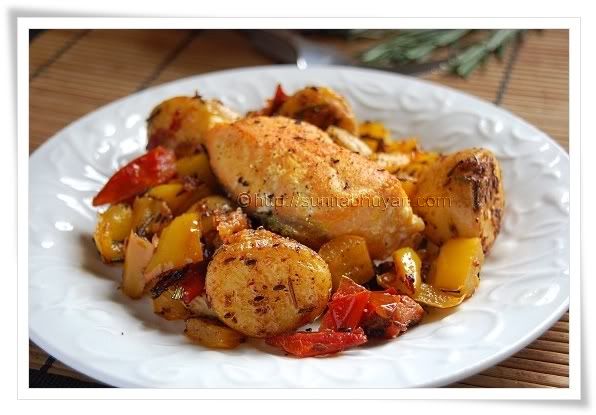 Wishing all of you a wonderful weekend ahead!
Related posts-
Roasted autumnal vegetables