It is only in recent times that parsnips have found its deserved place in my kitchen, and of course, our hearts. Although it is readily available, somehow this plain looking root vegetable hasn't been able to make it's way into our shopping trolley. It hasn't been intentional, but , somehow, we tend to just glance over it and move on. But nowadays it's a different story altogether…once it found it's way, we have developed a fondness for it.
They say that parsnips are related to the carrot, but have a stronger flavour. It seems that it was quite difficult to distinguish between the two in Roman times, when some carrots were white too! On the health front, the parsnip is richer in vitamins and minerals than the carrot. It is particularly rich in potassium with 600 mg per 100 g. The parsnip is also a good source of dietary fibre.
Parsnips also form an essential part of the Christmas dinner in the English speaking world as well as a part of the Sunday roast. And the way we like to have it is to slice it along with it's now orange cousin, with or without peppers, some garlic, seasoning, herbs, drizzling with olive oil and roasting in the oven. For the record, here's how I made my garlicky roast veggies…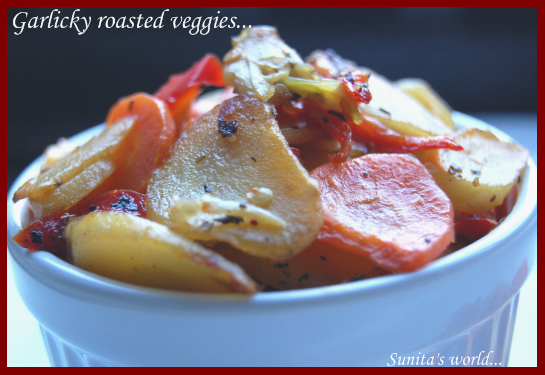 What's needed-
2 medium sized parsnips, peeled and sliced diagonally
1 large carrot, scraped and sliced diagonally
1/2 a red pepper,deseeded and cut into small pieces
4 cloves of garlic, smashed, along with the peel
1/2 tsp crushed red chillies
1/2 tsp dried sage
2 tblsp of extra virgin olive oil
salt and pepper to taste
How to-
Pre heat the oven at 220 deg C.
Place the parsnips, carrot, red pepper and garlic on a roasting dish.
Sprinkle the chillies and sage and season with salt and freshly ground pepper.
Drizzle the oil over the rest and toss so that everything is mixed well.
Place the dish in the centre of the pre heated oven and bake for approximately 25 minutes or till the edges turn golden(toss them halfway for even cooking).
That's it…serve hot as a dish or also on it's own. The pungency of the garlic along with the slight heat from the chillies and the sweetness of the parsnips were an absolute delight. I loved the aromas emanating from the oven as the roasting was going on within.
The garlicky flavour really comes out in this dish, and so I'm also sending to myself as an entry for Think spice …think garlic.

And to my Indian friends, I wish a very happy Sankranti ( Bhogali/Magh Bihu for us)