In my last post, I had mentioned about some of the experiences of my invitation to the BBC Summer Good Food Show along with a virtual record of the various stalls. In today's post, I'm going to give you some more pictures of  other celebrity chef demonstrations and also the hands – on Miele cookery experience that we bloggers were a part of.
After a good look around the stalls, we were tired. There were simply too many stalls and too many people. We were hot and actually out of breath by the end of the  nearly one and a half hours of exploring which including dodging people to take pictures and a lot of tasting in the stalls. Our little group of myself, Naomi and Celine ( we didn't realise how we came to be separated from the other five) decided to take a breather in the fresh air before our hands on cookery session. Gardeners World Live was also going on outdoors and people were flocking there too…some wonderful signs-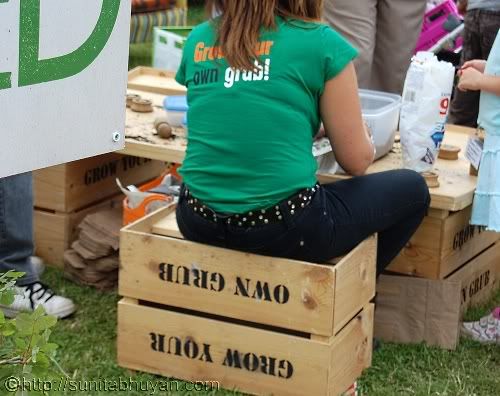 After a little chit chat, we went indoors once again to join the rest of the group. The friendly Miele representative gave us a quick tour of their latest home appliances, which elicited quite a few oohs and aahs!
It was now time to don our aprons and get involved in the Miele Cookery Experience.
The stage is set, and the audience is ready!

This was a new addition to the show this year. It's a unique opportunity for home cooks to take part in cookery sessions, learning from the experts. Participants would be able to enjoy the fruits of their labours in the backstage dining area. We were led by Sophie Michell. We would be using the Miele steam oven and make a Thai inspired fish (lemon sole) roll filled with crab meat, a mango salad and scallops. I hardly cook any shellfish at home (Dinesh is allergic to them), and this was a chance to try out some recipes. We followed Sophie's lead and after some fussing, great help from the assistants and doing away with dodgy knives and peelers, we managed to produce some lovely plates of food, even better as there was the recipes did not need any addional fat.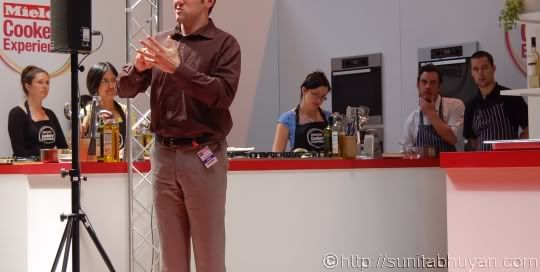 Getting ready!
Chop, mix! Chop, mix!

Concentrate!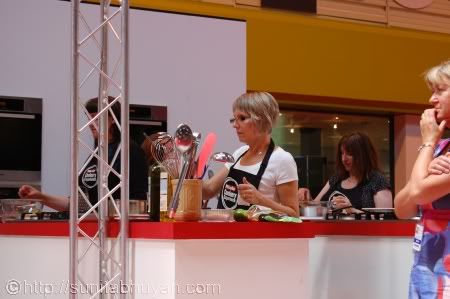 Jan, Nic and Sylvie in action!
Relax and smile! Salad's done! Fish is in the oven!
The cooking done, we sat down to taste the fruits of our labour, (clicking photos first, of course ) which was quite good, actually, considering the fact that all this was done in front of a live audience ( quite outside my comfort zone) !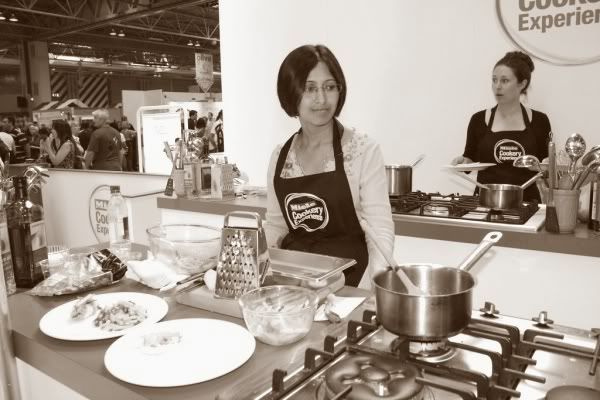 Ah! The food's ready! Naomi's ready with hers too!
When food bloggers sit down to eat…
My mango salad…
scallops,
and the fish roll
After all the eating, we recieved our goodie bags from Miele which included a wonderful cookbook and chocolates. We said our goodbyes, though a few of us ( myself, Nic and Anne) did wander around a bit more to take in  a few last glimpses. Finally, it was time to leave, what was, a wonderful day among wonderful food and equally wonderful people.
This was a great opportunity to see such a wonderful variety of food on display, some known, some unknown. It was a chance to meeet the producers face to face and try out many new products. It was also nice to be among people who were so passionate about what they ate, and those celebrity chefs, like The Hairy Bikers, who inspite of not possessing any professional training, were trying their best, in their light hearted manner, to make home cooked food popular, and also gave an insight into the diverse cuisines of the world, through their travels. It is very inspiring indeed.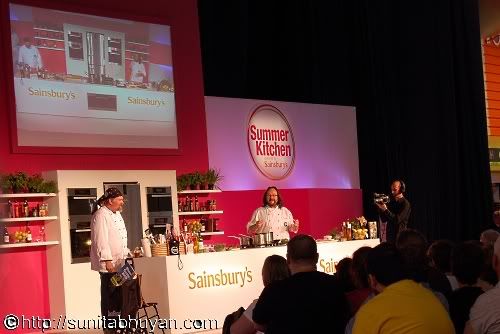 The Hairy Bikers in action

Gino D'Acampo charms the audience
Yes, it was a nice day – the weather was great, the food was great and the people were fantastic. Of course, there was quite a lot of this,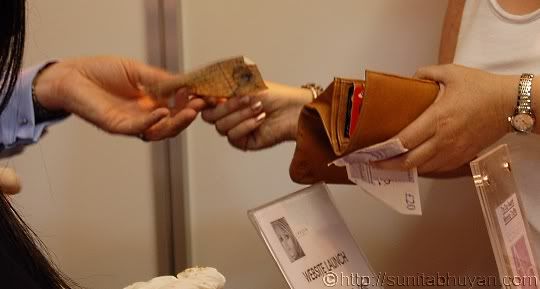 and one did come across some interesting labels and signs like these-
…yes, the day was good.
Thanks again to everyone at Miele (especially Steph) for the invitation, for taking the pictures of me while cooking, and also to Dinesh for patiently ferrying me to and from the event.
Related post-
The BBC Summer Good Food Show – an invitation (Part 1)
Take care and have a wonderful weekend!