Acaju, acajuiba, anacardo……pajuil, gajus, jambu….or the all familiar 'kaju' or 'cashew' nuts, as is usually known, is perhaps the most common nut in India…well, and why not…considering that India ranks first in area utilized for cashew production. It seems that cashew nuts are native to Brazil and made it's way into India ( Goa , to be precise) through the Portuguese, way back in 1560. In fact, the English name of 'cashew' comes from the Portuguese 'caju' , which in turn comes from the Tupi- Indian word 'acaju'. It's really amazing to think that a humble nut has made it's way from another part of the globe and is now contributing to the economy of it's adopted home (or homes, as they are now grown in many other tropical countries as well).
It seems that cashews have quite a few health benefits as well,(apart from being a scrummy snack in their roasted and salted avatar!!). Along with protein, carbohydrates, vitamins, etc… it is also rich in 'fat'…but it is supposed to be of the goody kind. Having them in moderation ( tell Dinesh that!!!) can be quite beneficial. And these dear nuts also contain 0% cholesterol.
Cashewnuts also form an important part of many Indian desserts and sweets – especially, the payash(rice pudding) and the kaju barfi ( Rengoni and Agastya's 'favourite Indian sweet', as they say). I also like their shape…don't they look like commas

And what about all those yummy vegetarian and non vegetarian recipes in which these nuts lend their richness…the list goes on…
Right! Now, wasn't that enlightening

But, seriously,I also have another motive behind all that. You see, lately, our stock of these nuts have been on quite the upper scale…somehow, we landed up with more than was required. The oven beckoned, and I couldn't resist…so much so that I baked two batches of cashew cookies … they were quite similar in their ingredients…but were made differently, and needless to say, also differed in the taste department. The following is my recipe for the first batch of cashew cookies that I baked…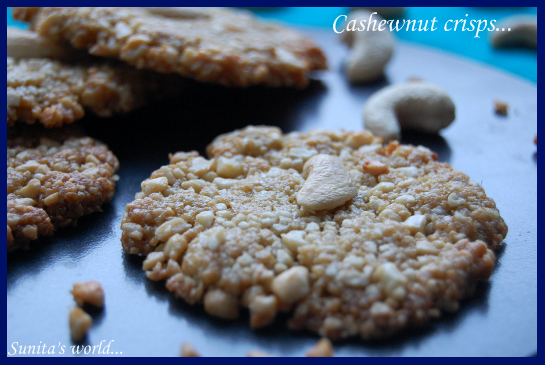 What's needed-
1 C cashew nuts, very coarsely ground
3 tblsp semolina
1/2 C plain flour
1/4 tsp bicarbonate of soda
1 egg
2 and 1/2 tblsp of oil
3 tblsp muscovado sugar
8-9 cashew nuts, halved
How to-
Pre heat the oven at 160 deg cel and line a baking tray.
Beat the egg in a bowl.
Seive the flour and soda into the bowl and mix well.
Add the semolina and ground cashews and mix well ( preferably by hand)
Add the sugar and the oil, one after the other and mix well ( just enough, do not over mix)
Make 16-17 balls of the mixture and place them slightly apart from each other on the baking tray.
Flatten the balls with your fingertips to discs of about 2 and 1/2 inches in diameter.
Press a halved cashew on top of each and bake in the centre of the oven for 10-12 minutes or till golden around the edges( do keep and eye on them after 10 minutes, as they tend to brown very quickly after that) .
Cool the cookies in the pan for 3-4 minutes and then cool completely on a wire rack.
These cookies take very little time to make and taste great as well. They came out very crisp(especially when they are warm) and were a real nutty delight.
That's it for now…as for the other recipe, do watch out for it….will be coming very soon. Take care and have a great weekend !!