The days are very long nowadays, the sky being bright till almost 10 o'clock.  We are in the middle of the year and technically, it is supposed to be summer. But, apart from a few days of unbroken and very bright sunshine here and there, it does not really seem to be summer just yet. Today did show a lot of promise, but the clouds gradually took over for most parts of the day.
But, then, days are flying by. And before we realise it, the days will start getting cooler again. So better make hay while the sun is shining ( whatever little bit, that is). Of course, it being summer, one does scream for ice cream. And a quick and easy, home made mango lolly, with a hint of saffron, does very well in satisfying that craving.
So that was exactly what we did. It is so easy to make, even your little one can mix and set. Rengoni and Agastya loved mixing and filling the moulds, and exclaiming…"Is that all you need to do?!!"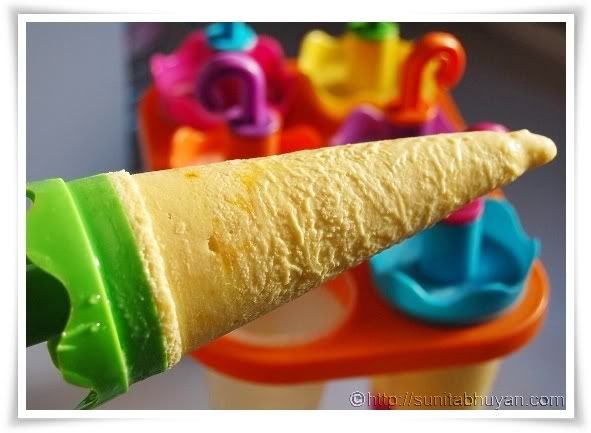 Here's how we  made the mango and saffron lollies-
What's needed-
2C mango puree (I pureed fresh mango)
200 gms double cream
3 tblsp of honey ( can skip this if the mangoes are very sweet)
a tiny pinch of saffron

How to-
Mix together the cream, honey and saffron, tillthe mixture is very slightly thicker than the original thickness of the cream. It should not be stiff.
Add the mango puree and fold in. I thoroughly mixed in about 3/4 of the puree and the rest, I just folded in roughly.
Spoon the mixture into moulds ( I got and tap them against the counter. Cover with the lids and freeze overnight.
To unmould, dip the moulds in a little water water for a few seconds, give the lids a twist and unmould.
There! Easy, wasn't it? What's not easy , though, is the wait!  No, of course, we didn't have them for breakfast

These lollies are somewhat like an easier and quicker version of kulfis. When we did have them, they were absolutely delicious …ah yes, the taste of summer!