After moaning about the lack of sunshine in summer, the sun god is out in full force has been casting its bright rays on us for the last few days. It's actually quite hot out there. We've been enjoying unbroken sunshine and it is a sheer joy to see the clear blue skies.
A few days ago, we had a simple dinner of chickpeas curry and rice. I had some of the soaked and sprouted chickpeas leftover. It was just enough to make a simple salad, side dish or snack. I snipped some garlic greens from our tiny vegetable patch,
and got down to business.
What's needed-
2 and 1/2 C of sprouted chickpeas ( or plain soaked ones) , boiled and drained completely
1 tsp olive oil
1 tblsp roasted and roughly ground cumin ( cumin powder doe not give the same earthiness )
a small bunch of garlic greens, chopped
1/2 tsp of crushed red chillies ( more or less)
1tblsp sundried tomato paste
a tiny pinch of turmeric powder
salt to taste
How to-
Heat the oil in a pan.
Add all the ingredients ( save a little of the garlic greens for garnishing) and stir fry over medium to high heat for 3-4 minutes. The chickpeas should be coated with the rest of the ingredients and most of the moisture should have evaporated.
Remove from heat, garnish with the reserved garlic greens and serve.
Next time, I am going to add some chopped vegetables ( carrots, bell peppers etc.) If you do not have garlic greens, add some chopped coriander . Of course, the taste will slightly differ, but it should not be unpleasant.
We had ours with some fresh salad. We also added some feta cheese cubes to make it more filling.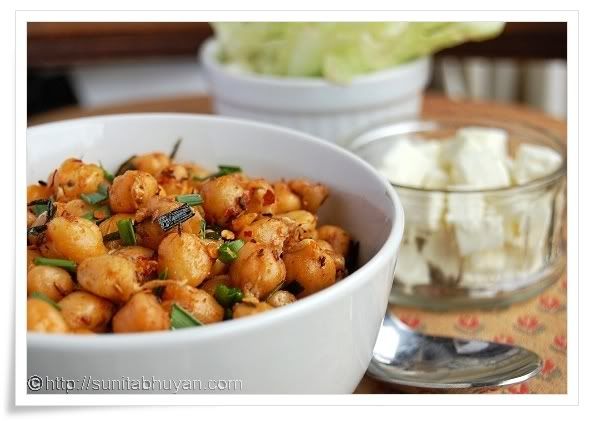 Not bad for something dished up in such a short time !