Hope all of you had a wonderful weekend. We had a lovely summery one full of activities and with full co operation from the weather.
The tart in the title came about from the leftover shortrust pastry from the Daring bakers challenge. I had,  not used up the whole amount and just made 2 small tarts. So, the rest of the pastry was used to make this simple savoury tart. Ripe, sweet tomatoes and onions were paired with some peas to form the filling. It was topped with grated firm goats cheese and crushed red chillies and freshly ground pepper was sprinkled on top.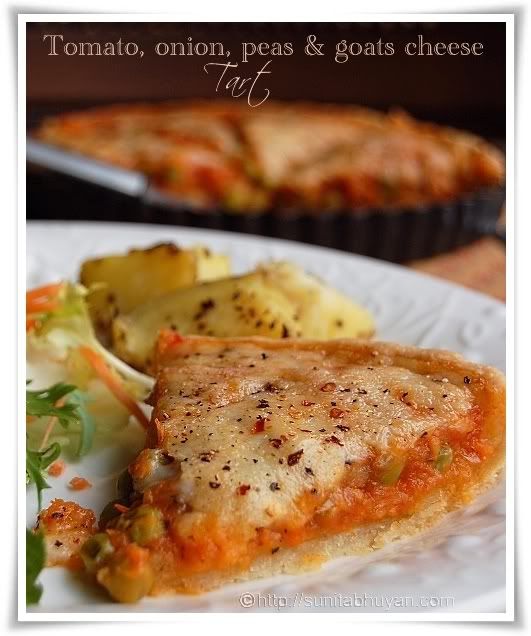 What's needed-
For the pastry- refer to this post (skip the almond extract and sugar)

For the filling-
2 onions, sliced
4 ripe tomatoes, sliced
1 tblsp Italian seasoning
1 tblsp olive oil
1 tsp crushed red chillies ( more or less)
1 tsp roasted and roughly ground cumin
salt and freshly ground pepper to taste

topping-
50 gms of grated firm goats cheese
crushed red chillies and freshly ground pepper
How to-
Roll out the pastry and line an 8inch pan ( bottom and up the sides).  Prick the pastry all over, gently with a fork. Chill the pan lined with pastry for about 30 minutes.
Make the filling. Heat the oil and add all the ingredients for the filling, except the peas. Stir, and bring to a boil. Reduce heat to low, cover and  cook till the onions soften. Stir in between.
Increase the heat and stir constantly till most of the moisture evaporates. Transfer to a food processor and pulse. Mix in the peas and keep aside till completely cooled.
Pre heat the oven at 220 deg C.
Place a piece of parchment over the pastry and fill with some dried beans. Baking beans can be bought, but I just used some dried chickpeas. The beans are just needed to add pressure on the pastry, so that it does not puff up while baking blind ( without the filling).
Place the pan in the centre of the pre heated oven and bake for about 20-25 minutes.
Remove from the oven and then remove the beans and parchment. Place the pan on a rack to cool completely before filling.
Pre heat the oven at 180 deg C.
Fill the cooled crust with the cooled filling and top with the grated cheese. Sprinkle a little crushed red chillies and some freshly ground pepper over the cheese.
Place the pan in the centre of the pre heated oven and bake for about 30 – 40 minutes or till the cheese has melted, is bubbly and lightly browned. The filling should be heated through.
Cut into wedges and serve with some salad.
We had ours with some fresh salad. I also threw in some roasted potatoes on the side…a filling meal indeed!