The other day, as I was engaged in a long distance call with my older sister, she mentioned that she had gone to meet ma and that the latter had whipped up an amazing egg curry for her; and I can't say that I wasn't envious. The next time I spoke to ma, I remembered to nag her about the recipe. Of course, as she did not have a food blog to maintain, ma related her recipe in her usual casual manner. I was eager to try it out and was not disappointed with the results.
On the matter of ma's cooking , the thing that I love and admire the most is her nature of adaptation. She is a very unorthodox cook, ready to try out any new recipe that she comes across. Her cooking is a blend of the traditional and the modern. Sometimes I really wonder about her zeal and enthusiasm to learn something new, even now. She is among those who believe that learning is an everlasting process.
Ma got married when she was very young. She was the oldest and pampered child in her family. Deuta(my father) used to tease her as to how she hardly knew to cook anything and that he had actually been her teacher. Deuta was living alone due to his job, when they got married, hence was quite able to fend for himself. I remember the neighbours who knew ma as a young bride tell us when we grew up, that she was someone who was always eager to learn, experiment and develop her culinary skills. Over the years, ma's cooking has evolved so much…well, is still evolving.
Without more ado, I bring to you the recipe for eggs in a spicy onion and milk gravy…thanks ma.
What's needed-
4 eggs, boiled and shelled
2 large onions, chopped and ground to a paste
1 +2 tblsp of oil
1 bay leaf
1 whole red chilli
1 tsp cumin seeds
1 inch stick of cinnamon
3 cloves
3 cardamoms
1/2 tsp each of turmeric(and an extra pinch), cumin and coriander powder
1/4 tsp chilli powder(more or less)
1 tblsp tomato puree
2 and 1/2 C milk
1 tsp garam masala powder
a bunch of fresh coriander, chopped
salt to taste
How to-
Make slight vertical incisions on the egg and rub in a pinch of turmeric powder and 1/2 tsp of salt.
Heat 1 tblsp of oil in a pan and fry the eggs till nicely browned. Remove from heat, slice into halves and keep aside.
Add the cumin seeds, bay leaf, whole red chilli, cinnamon, cardamom and cloves.
When the seeds splutter, and the oil leaves it's aroma, add the onion paste along with the turmeric, cumin, chilli and coriander powders and the tomato puree. Stir continuously till the moisture evaporates.
Add the milk along with the garam masala powder and simmer, stirring continuously, till the gravy thickens.
Add 3/4 of the chopped coriander and simmer for another minute.
Remove from heat and transfer to a food processor and pulse till smooth.
Transfer to the pan over heat and just heat through.
Arrange the egg halves in a bowl and pour the gravy on top.
Garnish with the rest of the chopped coriander.
Serve hot with rice/ rotis/ naan/ puris.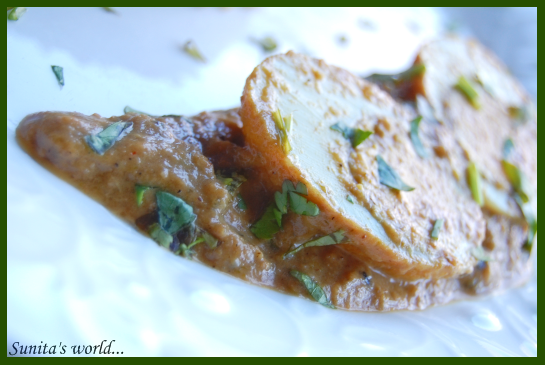 We had ours with some light vegetable pulao. It was really nice…the sweetness of the onions went well with the spices and the milk enriched it. This gravy is definitely a keeper.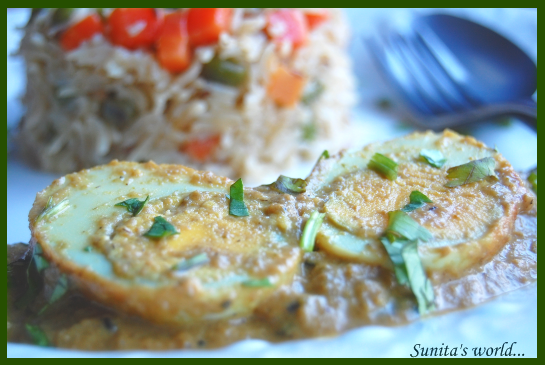 Have a great weekend !!