When it comes to catching up with movies, I'm a bit late nowadays. So, it was fitting that I only recently happened to watch the wonderful and thought provoking "Blood Diamond". Most of you must have seen it already, but for those who haven't, here's a synopsis-
"Set in Sierra Leone, BLOOD DIAMOND explores the role of diamond trading in the African civil war of the late 1990s. Narrowly escaping death when his village is invaded by Revolutionary United Front (RUF) militia, fisherman Solomon Vandy (Djimon Hounsou) is enslaved at a diamond mine and has his family taken away from him. When he discovers an unusually large stone he buries it, knowing it might be his only means of retrieving his family. While Vandy is imprisoned, white African diamond smuggler Danny Archer (Leonardo DiCaprio) overhears an angry RUF leader shouting at the farmer about the missing diamond. Seizing the opportunity, he gets Vandy out of jail, then offers to help find his family in return for half the stone's worth. United by a common goal, the two men clash over drastically different values, but manage to stick together in pursuit of the prize. Meanwhile, Archer crosses paths with intrepid American journalist Maddie Bowen (Jennifer Connolly), whose obsession with uncovering the truth about conflict diamonds lands her in the middle of the bloody action. As the three embark on a dangerous journey filled with close calls, unlikely bonds form that threaten to change Archer's unfeeling ways. Meanwhile, a subplot involving Vandy's beloved son shows us the horror being done to and by child soldiers at the hands of the so-called freedom-fighting rebel forces. Addressing a serious subject with passion and skill, director Edward Zwick delivers impressive action sequences that feel horrifically real without seeming excessive. No one can argue against BLOOD DIAMOND's noble intentions .To most viewers, the film is likely to provide a disturbing and educational insight into a world many know little about "(from here )
The story of a simple man with a loving family, whose life is turned upside down… whose quite young son, nursing ambitions of being a doctor someday, lands in the hands of rebels and is forced to cradle guns instead of a pen…but a man, who still refuses to give up and still nurtures hope in the midst of despair…"when peace comes, this land will be a paradise" says Solomon.
Both Hounsou and Di Caprio have given stellar perfomances. I simply love this new Caprio, shorn of his chocolate faced image. The acting of both men really sends shivers down the spine. The movie , inspite of it's length, does manage to keep one entertained throughout…well, provokes more thought, and I could really feel the myriad of emotions running through the loving father and husband- desperately trying to retrieve his family, especially his now rebel son- as well as the feelings of the worldly and scrupulous diamond smuggler who has also been a victim of circumstances.
After a long time, this is one movie that has really left me shaken. The next morning, I gave my children a tighter hug than usual, feeling probably relieved that they were safe…but, nonetheless , wondering as to what about those who are still victims of such internal strife…what about those mothers who long to give their children this tight hug…
The hoarse laugh of a dying Leonardo is the epitome of the meaninglessness of a precious stone in the face of death… As I glance upon the expensive, glittering diamonds in those brightly lit shops, I can't help but wonder as to the blood of how many people must have been shed before they made their way into the glitzy showcases.
In January 2003, forty nations signed "The Kimberly Process"…an effort to stem the flow of conflict diamonds. But illegal diamonds are still finding their way to market. It is up to the consumer to insist that a diamond is conflict -free.
On another note, chocolate is the bane of my life. I am addicted to them. Well, it's not that I can't go through the day without a bar or two… no, I'm not that kind of chocolate lover. But put a box in front of me, and I can hardly keep away. I've tried keeping them out of sight, but then, I always know where they are, so, you see, it's of no use anyway. On trips to the supermarket, I find it quite challenging to stop myself from making one to the confectionery aisle.
When the children crave for something chocolaty, I try to sermonise as to how it's not good for them. Of course, I really do mean it when I say so, but then, probably, I try to save myself as well…for , I know, once I make something, with that ingredient, I won't be able to stop myself from devouring them.
But, if I've been have been good for a while, I really look forward to the li'l ones asking for a chocolaty treat…which means I can treat myself as well

The following brownie diamonds were made on one such day…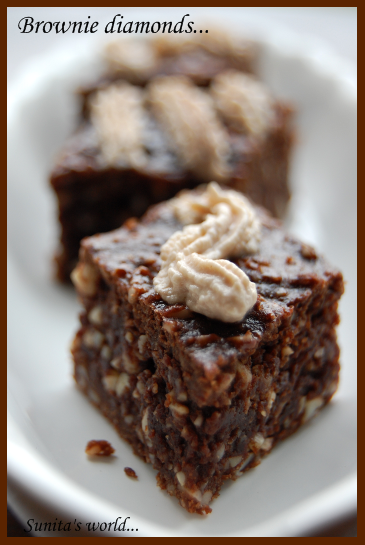 …and we all enjoyed them a lot…they were nutty and soft..the melt in the mouth kind…ahhh heavenly! If you're planning on making these, please try to use fair trade certified chocolates…every little bit of care on our part ensures a better deal for those due to whom we are able to enjoy these goodies.
If you're still there, here's the recipe for these brownie diamonds.
What's needed-
4 eggs
4 tblsp brown sugar
100 gms plain chocolate, melted and cooled a little
3/4 C wholewheat flour
1/4 C cocoa powder
1/3 tsp baking powder
3 tblsp of oil
2 C nuts of choice( I used cashews), roughly ground
Topping(optional)-
cream, sugar, a little cocoa powder
How to-
Pre heat the oven at 170 deg C and line and grease an 8 inch square baking dish.
Beat the eggs and sugar.
Sieve together the flour, baking and cocoa powders and mix with the egg mixture.
Add the oil and mix well.
Add the melted chocolate and mix well.
Fold in the nuts.
Tip the mixture into the prepared baking dish and spread out evenly.
Place the dish in the centre of the pre heated oven and bake for approximately 18 minutes or till very little sticks to a toothpick when inserted through the centre( do not let it dry out too much).
Cool in the pan for 2-3 minutes and then peel off the parchment.
Transfer to a rack and cool completely.
Cut into square or diamonds to serve
If you want to go on with the topping, just whip together some cream, a little sugar and cocoa powder till thick and pipe it or just spread it on the top( I have not given specific measurements the topping…use according to your preference)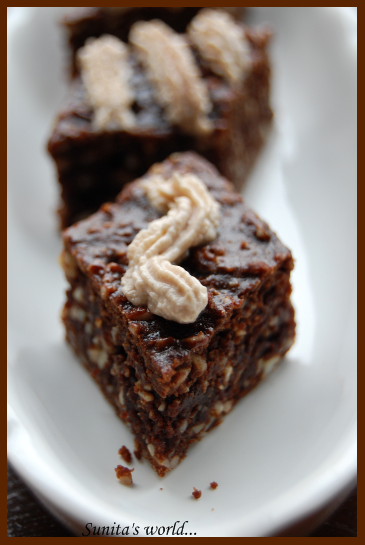 These were really yummy…and needless to say, satisfied my cravings as well!!!