It's been hot for the last few days. The sun has been shining down in all its fury. It is also nearing the end of the term for the li'l ones and summer break is just two weeks away. This is a busy time of the year for the Rengoni and Agastya… school trips, concerts, activities both in school and outside, and also getting ready for the end of the year report ( fingers crossed). There are just too many dates on my mind right now. And the hay fever definitely isn't helping. But,then, through itchy, puffy eyes, life goes on.
And there are also too many bananas lying around, and most of them have started to get too ripe. With the onset of summer, there are so many wonderful fruits to choose from, that the poor bananas have been somewhat neglected. I'm the only one gorging on them, and that's too much too. Must stop buying them for some time. These over ripe bananas have been making their way into quite a few banana pancakes, the kids favourites. A couple of them also made their way into these yummy banana, peanut butter, Greek yogurt and craisin cupcakes. They are simple to make and smell heavenly too.
What's needed-
2 very ripe bananas, roughly mashed
4 tblsp of Greek yogurt
3 tblsp of chunky or smooth peanut butter
4 tblsp of honey
4 tblsp of sunflower or vegetable oil
1 ad 1/4 C whole wheat flour (atta)
1/2 tsp baking powder
1/4 tsp bicarbonate of soda
1/2 C of craisins
How to-
Pre heat the oven at 180 deg C and line  a cupcake tray ( I got 13).
Beat together the bananas, honey, Greek yogurt, peanut butter and oil till smooth.
In another bowl, whisk together the flour, baking powder and soda. Mix in the craisins.
Fold in the flour mixture to the banana mixture, a couple of tablespoons at a time., till everything is just moistened. the mixture will be quite thick.
Spoon the mixture into the cupcake liners, till about 3/4 full.
Place the tray in the centre of the pre heated oven and bake for about 22-24 minutes or till the top is lightly browned and a toothpick inserted through the centre of the cupcakes come out clean.
Cool the cupcakes in the tray for a minute, and then transfer to a rack to cool completely before storing in airtight containers.
These cupcakes smell heavenly. They were soft, the few bits of nuts from the peanut butter added a nice bite and the craisins added their sweetness. And the bananas, yes, of course they added their own flavour.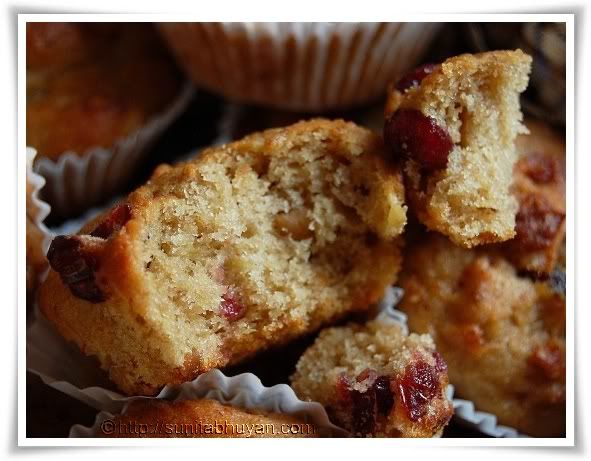 Have a great weekend everyone!