The children's half term is on in full swing and I'm really glad that we've seen some gorgeous weather in the last few days. They are enjoying themselves, keeping busy by playing together, not to forget the bickering as well, and taking part in some activities during the second half of the day. Needless to say, they are absolutely knackered and famished by the time they come back home. So I made these simple bread and vegetable tikkis for them to enjoy.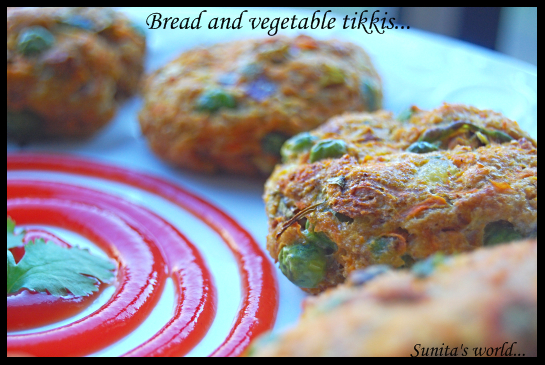 What's needed-
2 potatoes, boiled, peeled and mashed
2 C grated carrots
1C peas
1 small onion, finely chopped
1 tsp finely chopped ginger
a generous bunch of coriander, chopped
8 slices of wholemeal or white bread, dipped in water and squeezed
1 egg, beaten
salt and freshly ground pepper to taste
How to-
Pre heat the oven at 190 deg C and grease a baking tray.
Mix and mash together all the ingredients, except the egg and peas.
Add the peas and mix well.
Divide the mixture into 17-18 equal portions.
Shape the portions into balls and slightly flatten them between the palms of your hand.
Place them on the prepared baking tray and brush the tops with the beaten egg.
Place the tray in the centre of the pre heated oven and bake for about 40-45 minutes or till golden brown and firm on top.
Serve hot with ketchup or any other dip or chutney.
Rengoni and Agastya had theirs with ketchup. They loved the tikkis and most were gone in no time. I had made quite enough, so there were a few left behind for the bigger kids as well

If you like your snacks really hot, add some chilli powder or chopped green chillies, but I was happy as they were though, for I run a mile from chillies anyway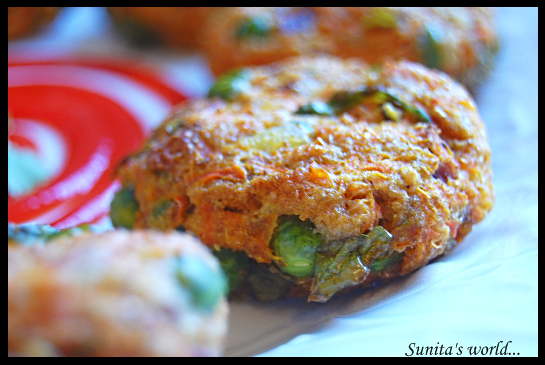 Enjoy…while I sort out two debating ( read that as 'arguing') kids….ah well…the joys of having them around

Update- Am sending these tikkis over to Vanamala for her Kid's food event…thanks Asha and Siri.