How time flies! Sometimes, I feel as if  I'm on a super fast vehicle with very few stops in between. The years are just zooming by. It seems just like yesterday that Rengoni and Agastya first went to school, their eyes, full of anticipation. For that matter, it also seems just like yesterday that I cradled their tender frames in my hands, as they entered the world, one year after another; all those sleepless nights, all those first smiles, mumbles, words, steps..and when did they start to run? And cycle? when did they let go of their stabilisers and race ahead? And when was it that they first stepped into the swimming pool? Me and Dinesh had to hold them…when did they let go and dive to the bottom of the pool? When did they start to read and write on their own? Was it just yesterday? Children do grow up so quickly, don't they? Every time Rengoni and Agastya compare their height with mine, my heart does a little flutter.
And then, I think of my ma…she too must have gone through the same emotions as the three of us progressed every time. All three of her children have flown the nest, and my 'deuta' ( Assamese for 'father') left her for the other world, nearly fifteen years ago. I was thinking of her the other day. Of course, I think of her every day, it was just one of those days when the thought is accompanied with watery eyes and the wave of emotions just seems to flow.
That night, as I tucked Rengoni to bed, she asked me if I was feeling better. And she also told me, in a sort of grown up way as to how she suddenly realised that family was very important. Huh???!!! Now, where did that come from? Wasn't it just yesterday that I was rocking her in my arms? Time sure flies (sigh)…
As for the weather, this year we have no complaints about the sun. It has been behaving splendidly for ….I have lost count. I must say, that, at times, I have been guilty of wishing it would rest for a while

The strawberry season is still going on, as strong as ever. This is a great time to enjoy the bounties of nature. It is a real pleasure as we bike our way on paths, on either sides of which, there are bushes laden with blackberries. Look up, and there we have cherries hanging from the branches, ripe and waiting to be picked.
Like all other fruits, we love to have them as they are, but at times, a little mixing them with something to make something different doesn't hurt, does it? And pair it with some chocolate and I'm all set. So how about some strawberry-cherry cream in home made dark chocolate cases.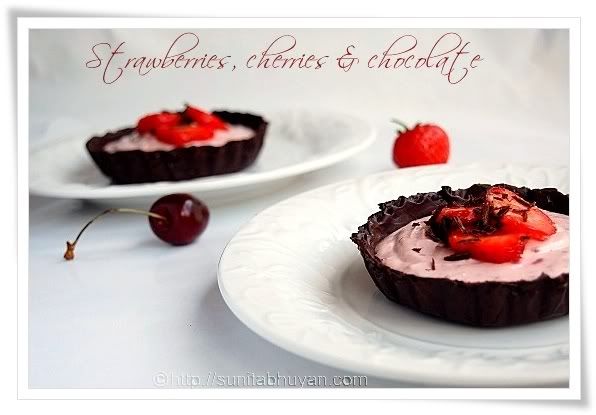 What's needed-
For the cases-
100 gms of melted dark chocolate
For the filling-
5 strawberries, hulled and quartered
7 ripe cherries, pitted and chopped
2 tblsp honey
150 gms of double cream
For garnish-
sliced strawberries
Chocolate shavings
strawberry-cherry puree ( as mentioned below)
How to-
Line the bottom and sides of 3 mini tart cases, ramekins of other small bowls with foil. You can also arrange foil cupcake liners in a cupcake tray.
Brush the foil with a little melted chocolate and chill till set. Brush more melted chocolate and let it set again. Repeat this step 6-7 times, chilling everytime.
Carefully peel  the foil and arrange on a tray/dish.
Puree the cherries and strawberries together and mix in the honey.

Beat the cream till it forms stiff peaks.
Fold in about 4 tablespoons of the fruit puree into the  cream and reserve the remaining puree. Fill the chocolate cases with this and chill.

Just before serving, garnish with some sliced strawberries, chocolate shavings and the reserved puree.
There! Easy, wasn't it?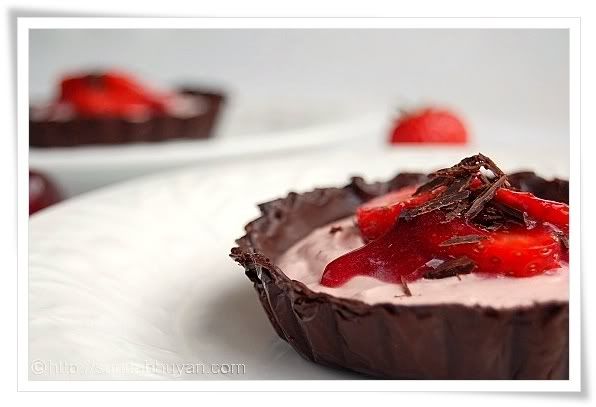 A yummy , elegant dessert, ready in minutes.
The creamy filling with the sweet fruit puree and the intense chocolate was a delight.
Yum!