Just as I was about to start this post, I realised that I have surpassed 400 posts in this blog…406 to be precise! I am glad and do consider it as a milestone . For something started on the spur of the moment, I am happy that I have been able to carry it on so far. But, the best part of two and half years of blogging, and 400+ posts is the interaction with my lovely readers. So, thank you everyone, for brightening my humble world with your valuable inputs.
Now, a little something to lightly sweeten your day…yeasted vanilla mini loaf served with a cherry compote.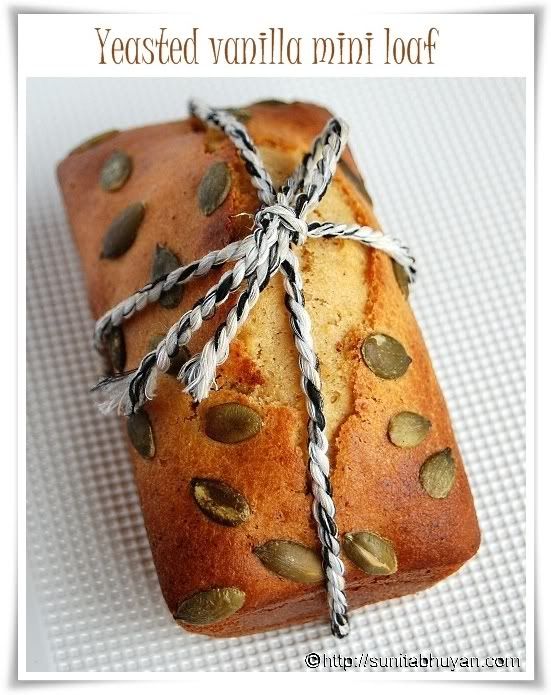 These little beauties are very easy to make, and unlike other yeasted breads, does not need all that kneading. Just mix, fill, leave to rise and bake. I actually got the inspiration from something similar, recently cooked up by Valentine Warner on television. But there were no measurements given, and I made my own along with a few other changes. I substituted plain flour with whole wheat flour, sugar with honey and butter with sunflower oil. Warner made heart shaped buns and soaked them in  a 'seriously sweet' sugar and honey syrup. I made mini loaves and served them with a cherry compote. I also topped them with some pumpkin seeds to add a little crunch.
What's needed-
7 heaped tblsp of whole wheat flour (atta)
a pinch of salt
2 tsp fast action dried yeast
7 tblsp of sunflower oil
3 eggs, lightly beaten
6 tblsp honey
1 tsp vanilla essence
a handful of pumpkin seeds
For the compote-The following measurements yield just about 3 tblsps of compote. I made more later by increasing the amount accordingly.

10-12 ripe cherries, pitted and chopped
7 tblsp water
2 tblsp honey
How to-
Grease a mini loaf pan. I got 5 mini loaves, baked in a 4 and 1/2 by 2 and 1/2 inch loaf pan. These can also be made in a greased muffin tray.
In a bowl, mix together the flour, yeast and salt. Add the eggs and oil and mix in, preferably with a wooden spoon. Follow with the honey and vanilla and beat really briskly for a few more minutes with the spoon.
Spoon the mixture into the pan /muffin moulds, filling them up half way . Sprinkle the pumpkin seeds and leave in a preferably warm place to rise, for approximately an hour.
Pre heat the oven at 180 deg C. Place the tray in the centre of the pre heated oven and bake for about 10-15 minutes or till the tops are nicely browned and a toothpick inserted through the centre of the buns/loaves come out clean.( my loaves and took a little longer; about 18 minutes)
Cool the buns/loaves in the pan for a minue and then release them from the pans. Cool completely on a rack before slicing (if making loaves).

For the compote- Place the cherries, honey and water in a small pan over heat. Bring to a boil and stir constanty for a couple of minutes till most of the water evaporates and the fruit is soft. Take care not to burn. Transfer to a food processor blend roughly.
Serve the compote alongside the buns/slices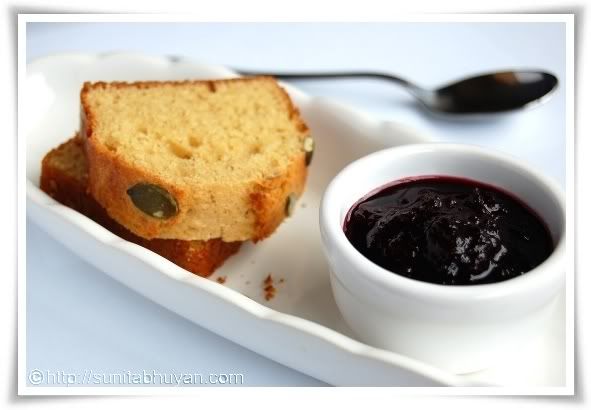 We had slices of the loaves with spoonfuls of the compote on top…yummm!
The bread was soft with a lovely vanilla flavour and a bite brom the pumpkin seeds. The sweetness from the compote went very well with it. The light and dark looked good too. Want a bite?
This is on its way to Susan for Yeastspotting. This week's edition is being hosted by Nick of imafoodblog