No, I have not suddenly become some sort of a celebrity. I was just cooking with star anise and got a bit carried away

When I started my monthly event Think spice, I had done it with the intention of increasing my know how about the world of spices. Although I have been quite familiar with all the spices that have been previously featured in this event, the so many varied ways in which the particular spice was used by dear fellow bloggers , was definitely not.
This month, the chosen spice…star anise, is, not a regular on my spice rack. In fact, I have to admit that I have never cooked with it on it's own. When I bought a jar of this pretty looking spice a few days ago, I was really intrigued by it's looks and it's flavour. Googling around for a bit of inspiration, I stumbled upon this simple carrot soup with star anise and made up my mind to give it a try; and I must say that I was not disappointed. The thick creamy soup, flavoured with star anise, immediately struck a chord and we really enjoyed it. This is, of course, as it's all too obvious, my entry for Think Spice…think star anise.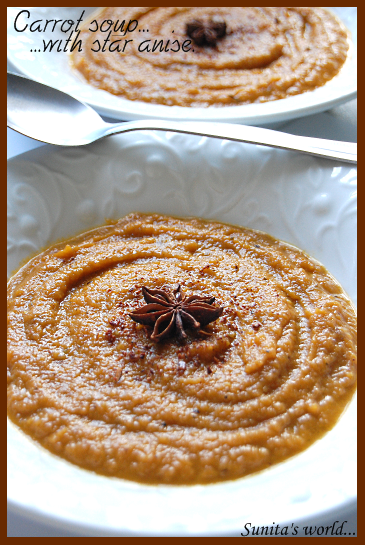 I haven't changed the recipe much, except reducing the butter a bit and pureeing a little of the spice along with the carrots…the original recipe says to discard the spices before pureeing the carrots. I also used dried herbs as I had run out of the fresher ones and used a little more than the single clove of garlic asked for . So, here's the recipe for carrot soup with star anise.
What's needed-
1 kg carrots, peeled and chopped
1 large onion, chopped
3-4 cloves of garlic, chopped
2 tblsp of butter
2 bay leaves
1 tblsp dried thyme
3 whole star anise, divided
4 C chicken(or vegetable) stock
Salt and freshly ground pepper to taste.

To garnish-
A few whole star anise (eye candy;-)) and another few of them, ground.
How to-
Heat the butter in a deep pan.
Add the onion, garlic, star anise, bay leaf and fry for 2 minutes.
Add the carrots and thyme and fry for another 2 minutes.
Add the stock and bring to a boil.
Lower the heat, cover and simmer till the carrots are very tender.
Discard the bay leaves and 3/4 of the star anise.
Puree the rest of the ingredients and re transfer to the pan over heat.
Season with salt and freshly ground pepper and heat through.
Serve hot and garnish each bowl with one whole and a little ground star anise.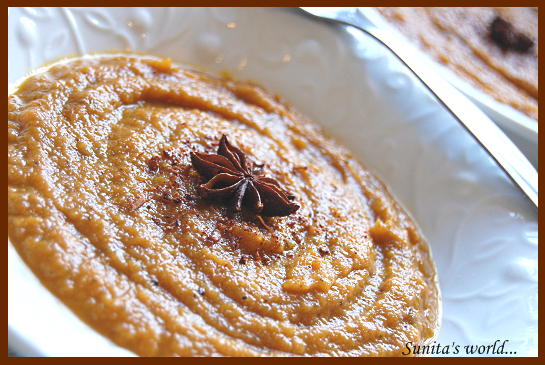 That's it! A lovely aromatic bowl of soup is now ready to be enjoyed !!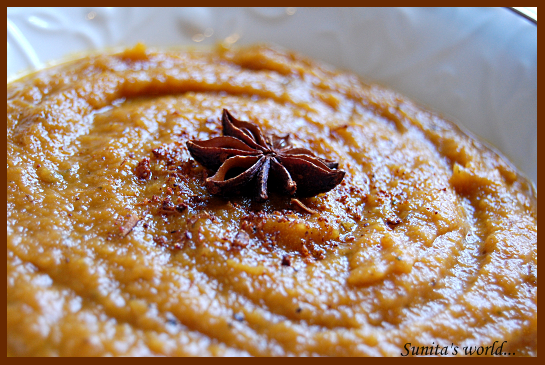 Again, a couple of days ago, dear Pravs considered my humble space worthy enough to pass on the following award.
Thanks Pravs. And, in my acceptance speech, I dedicate this award to all my excellent fellow bloggers and readers without whom this simple world of mine would have lost much of it's dynamism. Thanks everyone …I pass this on to each one of you. It's been a real pleasure to have known you