Sometimes the day just whizzes and by; the mind, at times, occupied by many other things, and before you realise it, it's dinner time. Today was one such day. It was the last day of Rengoni and Agastya's school before the summer break. Just the thought makes me smile ( at least for now

)…no early morning rush for the next six weeks. Yaay!
Anyway, coming back to the kitchen, a pack of spring roll wrappers have been languishing in a remote corner of my pantry for quite a while now. So I dragged it out and rummaged the fridge. I had actually boiled some potatoes and was thinking of making a potato and peas curry along with some rotis. But this idea just flew out of the window. Instead, the potatoes, along with a few other ingredients made their way into the spring roll wrappers as the filling. In place of the popular Asian flavours that go into most spring rolls, mine had more of a Mediterranean touch.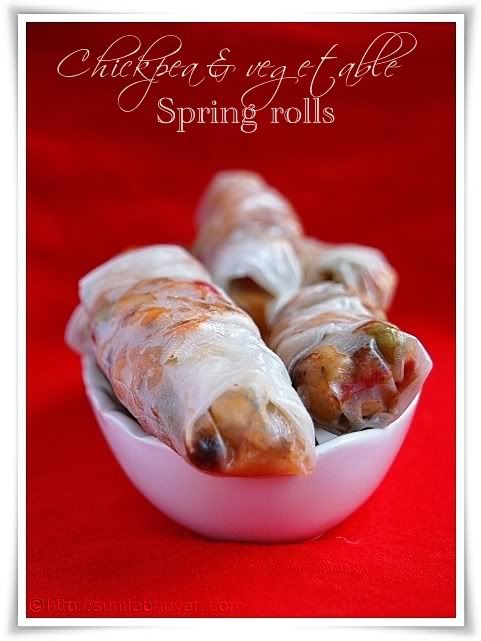 Its very simple to rustle up and is full of flavours too. And best of all, they more than made up for for my laziness in making rotis 

I also happily stepped out to snip some mint leaves from my tiny herb patch, for a mint and yogurt dip.
What's needed- The measurements given below ( especially the potatoes, peas and chickpeas) may be very slightly less or more than I actually used, so please use your own discretion-

3-4 C of roughly mashed boiled potatoes
2-2 and 1/2 c of boiled chickpeas
1-1 and 1/2 c of fresh peas
1/2 red pepper, finely chopped
1/2 a carrrot, grated
1 onion, finely chopped
4 cloves of garlic, finely chopped
1 inch piece of ginger, grated
3 tblsp of extra virgin olive oil
1 and 1/2 tblsp of Italian seasoning
2 tblsp of sundried tomato paste
1 and 1/2 tblsp of cumin powder
1 tsp crushed red chillies (more or less)
salt and freshly ground pepper to taste
About 20 round rice papers (can be found in the Asian aisle of supermarkets or in an Asian grocery store)
For the mint and yogurt dipping sauce-
fresh mint leaves and yogurt blended together with a little salt (not a thick mixture)
How to-
Heat the olive oil and add the onions. Cook the onions till they are translucent.
Roughly mix together the rest of the ingredients for the filling and add to the onions. Stir constantly for about 5 minutes or till all the ingredients come together and release their flavours. Keep aside to cool.
Prepare the wrappers. Line a dish with plastic wrap. Dip each wrapper in clean water and bring to set on a dry dish ( I used a wooden board) for 1-2 minutes or until soft and pliable. Place a tblsp ( I added slightly more) of the filling in the middle of the wrapper. Fold the side near to you over the filling and tucking in on both the ends, roll it up. The edges will seal themselves. Arrange the rolls on the lined dish till ready to serve. Check this video on rolling spring rolls.

Serve the rolls with the dip.
These rolls went down a treat for us today.
They were filling and full of flavours…easy to make and good to taste.
The light minty yogurt dip went very well with the rolls and there were four very happy people in the house after dinner today. Not a bad start to the summer holidays !
Now, I better go and catch some sleep. Aha! No hurry from tomorrow morning! For a change!

Take care and have a great weekend!