The second month of the year is nearly over…doesn't it seem like yesterday that it had started…phew!!! Cliched or not, time does fly by in the blink of an eye.
Speaking of foodie events, there are so many that one wants to take part in; but then, I realise that it's just too late. So, it's always welcome to know of events that are being organised by dear fellow bloggers sharing a common theme. Yes, dear Sia and Dhivya, I am talking of you two. Your choice of the same theme has definitely made life a helluva lot easier

…of course, not to mention the fact that I have been procrastinating till the last moment, at least, as far as one of you go.
The theme for both the above mentioned events is none other than the humble potato. Of course, like most people, we can't do without our share of them. It's absence in our kitchen is quite unthinkable…criminal to some extent! However, I am not going to break into a song or ode about them…the dear ladies have extolled the virtues of this spud in a much better way, so do check them out.
My contribution for both these events, is Coriander rosti. I came across this recipe a few days back and immediately fell in love. It was a nice healthy snack without any oil and we simply couldn't keep away from the plate.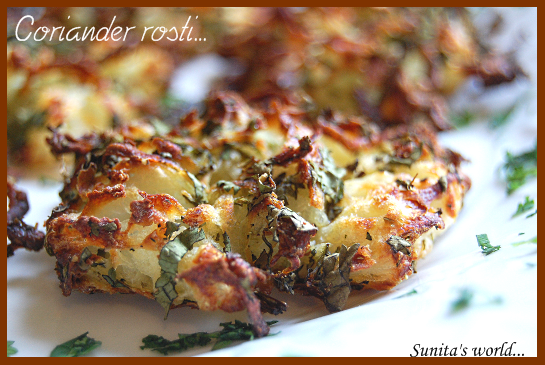 This is how I went about it…a very simple recipe…
What's needed-
7-8 medium sized potatoes, peeled
a large bunch of coriander, finely chopped
salt and freshly ground pepper to taste
How to-
Pre heat the oven at 200 deg C and grease a baking tray.
Prick the potatoes all over with a fork and half boil them.
Strain the water and grate the potatoes.
Mix in all the rest of the ingredients very lightly with a fork, avoiding mashing the potatoes.
Place spoonfuls of the mixture in mounds on the greased baking tray, a little apart from each other.
Place the tray in the centre of the pre heated oven and bake for 30-40 minutes or till golden brown and crisp.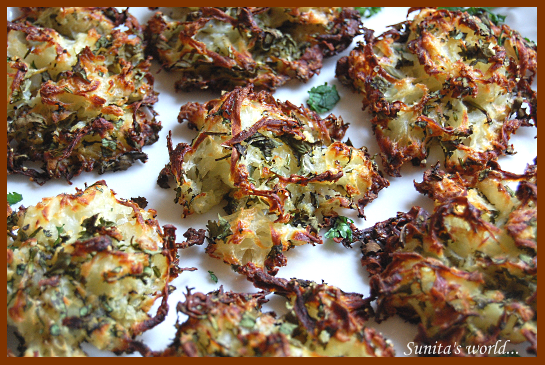 Serve hot. We really loved munching away these beauties. They were crispy and had the slight heat from the pepper ( add more if you prefer them hotter).
Now , off they go to grace Sia's for her Ode to potato and to Dhivya's for her Potato fe(a)st.
Related posts-
It's been raining awards in the blogosphere, and my space was lucky enough to get some …so thanks to dear Namratha and Pragyan who were nice enough to think that I was so too