"When you are old and grey and full of sleep,
And nodding by the fire, take down this book,
And slowly read, and dream of the soft look
Your eyes had once, and of their shadows deep;…"
-William Butler Yeats
The voice of our lecturer from our College still rings in my ears as he recites this poem. Although the poem, as it unfolds is about unrequitted love, I find this first stanza, about the transitoriness of youth, quite moving.
Now, why the sentiments and looking back? Well, the roots lie in a chicken curry. It was quite a few years ago, when I had just ventured into cooking. I was young, the heart was free, the mind was not plagued by a thousand worries, and most important of all, the body was fit enough to bear the challenges thrown at it ( no worries about a few extra tablespoons of oil, it would burn away without a pain. unlike now ). During those blissful days, one of the dishes that I loved to cook was a particular chicken curry. Whether it was because of the fact that the pieces of chicken  with all those spices was easy to cover up any little flaw or the better reason that the curry was loved by all to whom it was offered is another story altogether. But, the fact remains that whenever I was asked if I would love to cook anything, I would jump at the opportunity to cook the chicken curry; it was sort of a confidence booster. After all, at the time, dal was "boring" to cook, and there was something heady about being in the kitchen and filled with the aroma of spices, it made me feel like a "proper" cook.
Last weekend, we were planning to have chicken for dinner. I was making preparations to make a simple curry when the one that I used to make all those years ago flashed across my mind. With a nostalgic smile plastered across my face, I got down to making "mom's first chicken curry", as Rengoni and Agastya christened it at the dinner table. Yes, it was the first chicken curry I ever cooked and also the only one for the next couple of years.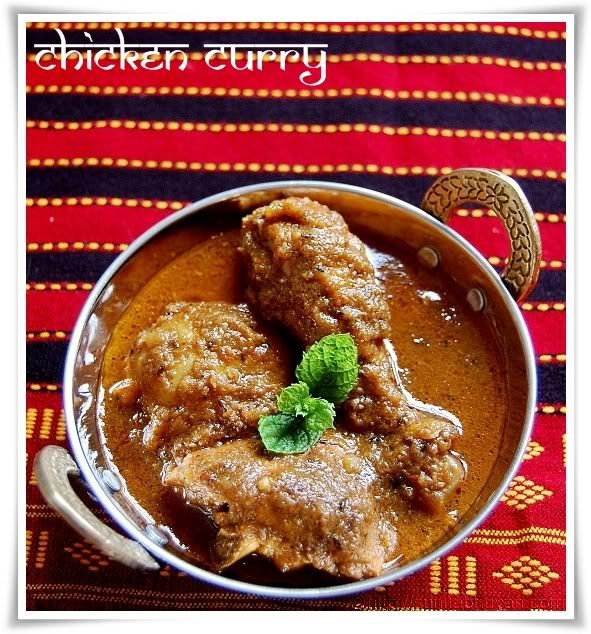 This curry does call for a few more extra drops of oil than I would normally add now. But, this is all about nostalgia and fond memories. It is about those idyllic times when weight was'nt a problem at all…I could eat as much as I wanted without the fear of adding those extra pounds (sigh). However, for that evening, we put our worries behind us and indulged in a hearty meal consisting of this curry and some of these spiced coconut rotis.
What's needed-
600 gms of chicken, skinned and cut into pieces
7 medium sized new potatoes, wasshed, scrubbed well and lightly scored all over
1 large, ripe tomato, chopped
2 medium sized onions, chopped
6 cloves of garlic, peeled and halved
1 inch of ginger, peeled and chopped
1 whole red chilli, halved
1 bay leaf
1 tsp cumin seeds
3/4 tsp turmeric powder
1/2 tsp chilli powder ( more or less)
2 tsp cumin powder
1 tsp garam masala powder
salt to taste,
6-7 tblsp of oil
1 tblsp sugar
1 and 1/2 tblsp dark soy sauce
hot water
How to-
Make a paste of the tomato, onions, garlic and ginger.
Heat the oil and add the cumin seeds, red chilli halves and bay leaf. When the seeds start to splutter, add the sugar. When the sugar melts and starts to caramelise, add the tomato-ginger-garlic-onion paste. Add the turmeric, cumin and chilli powders. Stir the moxture till most of the moisture evaporates and the mixture is lumpy.
Add the potatose and stir for a minute. Add the chicken pieces along with the soy sauce and season with salt. Fry for a few minutes till the chicken pices are coated well with the spices and start to brown.
Pour in enough hot water so that it comes up 3/4 of the way. Stir and bring everything to a boil. Transfer the contents of the pan to a pressure cooker**, close the lid and cook for 3 whistles. Do not release the steam, but let it cool down on it's own.
Check that the chicken is cooked properly; if not close the lid and cook for a couple more whistles.
Transfer the pressure cooker over heat and bring to a boil. Reduce the heat and simmer. Add the garam masala powder and mash one of the potates to thicken the gravy. Simmer for 2-3 minutes and remove from heat.
**If you are not using a pressure cooker, reduce the heat, cover and let it simmer in the pan till the chicken pieces are cooked. After this, do as in step 5 to finish cooking the curry.
Serve hot with rice or with any Indian flatbread.
As I said earlier, we had this with some spiced coconut flatbread and some fresh salad ( not in the pictures). Yummy!! We all licked our plates clean

Other chicken recipes can be found here.
Enjoy your weekend everyone