The 'khar' is a dish which is probably unique to the state of Assam. A traditional Assamese meal always begins with a 'khar' with some rice.It is believed that khar cleanses the stomach.
The prepared dish is called khar and so is the main ingredient that goes into it. The ingredient is made by drying and burning the skins of banana( to get the ashes), preferably a variety called bheem kol ( I don't know the English name for these bananas, but they are quite big, full of seeds and have a very thick skin). Water is then filtered through the ashes.This water is called kola or kol khar ( kol= banana) and is then added to the main ingredients, which may vary from raw papayas to bottle gourd to rice to fish to lentils . In the absence of the traditionally made khar from banana skins, baking soda is the generally accepted substitute ( which makes me quite glad, actually).
I haven't made khar for ages now. When we picked up a fresh and tender unripe papaya the other day (after a loooong time), both Dinesh and I exclaimed at the same time with a twinkle in our eyes- amitar khar ( papaya khar)!!
This is such a simple, humble dish, but it is undoubtedly a dish that the entire race of Assamese is prepared to be represented by  - khar khowa asomiya ( khar eating Assamese) as we call ourselves. References to it in sentences, especially outside Assam like  "I met a khar", "How many khars turned up?" , "Are there any khars nearby?" are quite common!
Now , after all that you must be waiting for the recipe ( I was actually surprised that i had not posted this recipe before), and it follows. Of course, I was not fortunate enough to use the actual kola khar and made do with baking soda. As I said earlier, this is the generally accepted substitute and does not affect the taste. I have seen my ma use baking soda most of the time to make the dish.  Just rememeber not to add too much soda or it leaves an unpleasant after taste on the palate.
What's needed-
1 medium sized unripe papaya, halved vertically, sliced, the seeds scooped, and cut into small and thin pieces ( ours yielded about 3 and 3/4 C)

2 green chillies, the stalks removed and slit halfway from the bottom
3/4 tsp bicarbonate of soda
salt to taste
1/2 tsp paas puron
1 bay leaf
1 whole red chilli, halved
2 tblsp + 1 tblsp mustard oil ( can be found in Indian grocery stores)
How to-
Heat the 2 tblsp of mustard oil in a pan and add the paas puron, bay leaf and red chilli halves.
When the seeds splutter, add the papaya, green chillies, salt  and soda. Stir well, reduce the heat to low,cover and cook for about10-12 minutes or till the papaya slices soften and lose their shape. Keep stirring in between.
Raise the heat and stir so that the excess water, if any, evaporates.
Remove from heat and stir in the remaining 1 tblsp of mustard oil.
Serve hot with some plain rice and dal.
Notes-
The raw papaya should also be quite tender.
Rinse the papaya several times in plenty of clean water after slicing.
Mustard oil is an absolute must in this dish. Khar is not "khar " without mustard oil.
Khar is usually not eaten with sour dishes.
Like any other recipe there may be slightly individual variations of this recipe; this is how my ma made it and what I've grown up eating.
We had ours with some plain rice, dal and a mixed vegetable.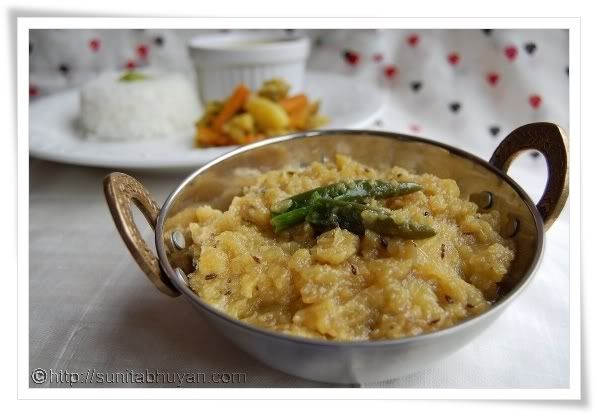 Dinesh and I went silent and savoured every precious mouthful. Mix a little khar with some rice and a little dal…yum! The kids relished it to, but of course, the sentiment was missing ( no fault of theirs ). But yes, we did enjoy the meal indeed!