One of the best things about blogging is the variety of new ingredients that one comes across. The rave reviews of a new find, along with the interaction that accompanies it makes blogging all the more pleasurable. And the pleasure is further heightened, when something catches your fancy in a fellow blogger's space, you long for it and , finally, one day, you lay your hands on that lovely ingredient.
Ladies and gentlemen, the curly green beauty which has been seducing me for quite a while is none other than the lovely green kale.
Kale or Borecole is a form of cabbage, green in color, in which the central leaves do not form a head.
It is considered to be closer to wild cabbage than most domesticated forms. The species Brassica oleracea contains a wide array of vegetables, including broccoli, cauliflower and brussel sprouts.


Kale is considered to be a highly nutritious vegetable, with powerful antioxidant properties and is anti-inflammatory.
I have been longing to have it ever since I saw it in dear Suganya's space some time ago. Like her, we too are great fans of greens, and are always on the lookout to incorporate various kinds of greens in our diet. At times, we really miss the greens vendor from back home who would come knocking from door to door in the mornings, carrying baskets of a great variety of fresh greens to choose from… one was really spoilt for choice.
But, as they say "When you're in Rome…" so, coming back to kale, I am so glad to have discovered it …came upon it in an unexpected place and Dinesh nearly jumped as I almost shouted 'kale! kale!' Yes, food blogging does have it's side effects

The green was brought home, lovingly caressed and was made into a simple side dish in which it retained it's lovely character…a simple stir fry which we really loved.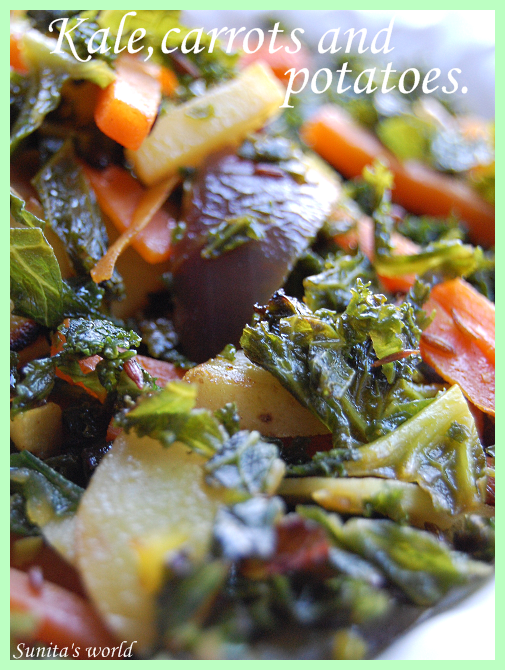 What's needed-

3 C of finely chopped green kale (discard the woody stalks)
1 small carrot, cut into 2 inch sticks
1/2 red onion, sliced
3-4 cloves of garlic, chopped
2 small potatoes, cut into thin pieces
1/4 tsp turmeric powder
2 tblsp oil
salt to taste
a pinch of sugar
For tempering-
1 tsp cumin seeds
1 whole bay leaf
1 whole red chilli
How to-
Heat the oil in a pan and add the ingredients for tempering.
When the cumin seeds begin to splutter, add the onion and potatoes and fry for 15 -20 seconds over low heat.
Add the kale, carrots and garlic.
Add the pinch of sugar and season with salt.
Stir well, cover and cook for 2 minutes.
Stir and cook again for 3-4 minutes, keeping the flame low at all times.
Add the turmeric, stir and cook covered for another 3-4 minutes.
Remove from heat and serve hot as a side dish with rice or flat breads.
While cooking, do make sure to give it a frequent stir… unlike spinach, they do not produce much moisture on cooking, and so would stick to the pan if left alone for long.
There! Made it at last…and yes, this is just the beginning…we thoroughly loved this strong green…had it as a side dish with rice and a fish curry. Thanks again Sug, for introducing us to the beautiful kale.
Have a great weekend!