My ma is the oldest among six sisters. She learnt to cook only after her marriage but, I must say that we were never deprived of a healthy home cooked meal. Her other sisters, my 'mahis'(one's mother's younger sisters are so called in Assamese), do not do very badly for themselves either…each one excelling in their own style of cooking… between them, they can really rustle up a storm !
Well, there is always a storm anyway, whenever they get together…they talk endlessly, and yes, over each other…I remember deuta (father) remarking many a time,when 'ma and gang' got together, as to whether each one of them did really understand the other, when they were all talking at the same time. But it seems they did have a way out of it…everyone seemed to be in perfect sync with the other. God bless, they are a cheerful bunch indeed!
And talking of Leni mahi, who is just below ma…what can one say about her..the one whose eyes well up as soon as she sees another suffering…both in real life as well as on screen

… always ready to lend a helping hand…the one who is equally fiery and takes no nonsense from anyone. And her cooking, probably she has always been married to her kitchen too. Married into a large joint family, she seems to be forever in the kitchen dishing up for the family…as well as being the headmistress of a school and taking law exams, raising three lads of her own…this was no mean feat. It seemed as if she was forever on her feet…when did she get the time to study!! Of course, the lads are now strappy young men, she has long resigned her job in the school, has passed her law exams and now practices in court. But one thing is still the same…she still loves her kitchen. She is a cook in the truest sense…one who jumps up with joy at the sight and smell of fresh ingredients. Her veggie patch boasts of many beauties, which she lovingly picks and transforms them into smashing dishes in her kitchen. And yes, she simply adores feeding people.
And she also rustles up a mean mughlai paratha…the triangle parathas , as my kids lovingly refer to them

The following egg parathas are an inspiration of those. Actually, Dinesh had been dropping subtle hints about these parathas for quite a while now, untill I took pity and decided to make them. I have used milk in the dough, my own egg mixture with the available vegetables and greens at my disposal…and haven't used any extra oil while rolling them out (Leni mahi uses water in the dough; rolls each ball of dough several times , each time greasing the rolled out dough, this makes them quite flaky)
The ones I made were quite soft. My kale obsession continues here as I added them to these parathas as well, but it is not compulsory…chop in some spinach, instead.They are quite filling and can be had on their own or with a condiment. Now, here's how I made them…
What's needed-
For the dough-
5 C whole wheat flour
1 tsp salt
2 and 3/4 C milk
1/3 C oil
To be mixed well with 4 beaten eggs-
1 small carrot, grated
1/2 C chopped kale or spinach
1/2 of a large or 1 small onion, finely chopped
a bunch of fresh coriander, chopped
chopped green chillies(optional)
1 C finely chopped asparagus
salt to taste
2-3 tblsp of water
Others-
oil to grease the pan for cooking the parathas.
How to-

Place the flour in a bowl along with the salt.
Mix together the milk and oil and add to the flour.
Bring everything together and then knead the dough till smooth and elastic.
Divide the dough into 9 equal portions, shape them into a ball, and slightly flatten.
Place the portions of dough in a bowl, cover and keep aside for 4-5 hours.
In another bowl, beat the eggs and mix in the rest of the ingredients.
Heat a pan and grease with oil or non stick spray.
Roll out a portion of the dough to a circle of about 8 inches in diameter.
Place the rolled out dough in the pan and cook over low heat for about 9-10 seconds.
Turn it over and cook the other side for the same period of time.
Turn over again and spread a little of the egg mixture on the paratha, keeping away from the edges by about an inch.
Leave for 2 seconds and then do the following to get the triangular shape-follow the pictorial please…in step (c),after the folding, press down with a spatula to keep the shape, and let the eggs cook for a while; and then turn it over to cook on the other side as well(d)-grease the pan or the parathas a little more if they feel too dry. Then remove and repeat for all the rest of the dough. Keep the prepared parathas wrapped in foil.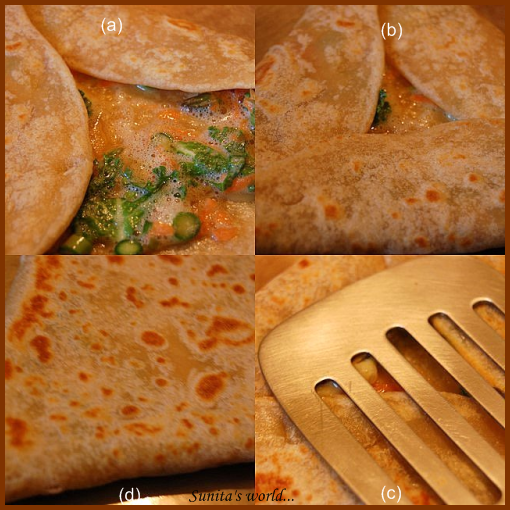 The parathas were really nice and soft and the leftovers remained so even the next day, which went into Dinesh's lunch box.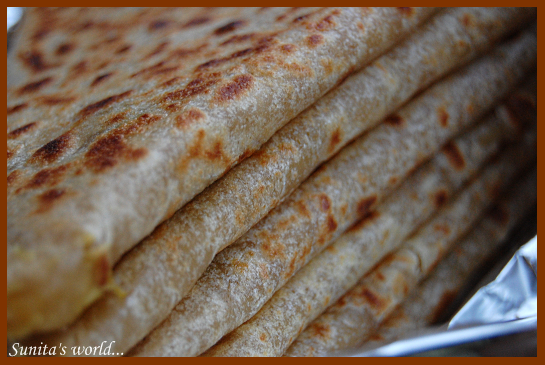 Serve the parathas hot with some pickle/raita on the side (the former is preferred) and enjoy!

We had our's with some mixed pickle…yumm!