Hope all of you had a great start to the week!
A very quick post to share with you today. The kids summer holidays are going on in full swing. Now, the kids being at home also means that apart from the main meals, I also have to keep the snacks stocked up to. Fruits and nuts are fine; but, with ever hungry kids, sometimes a different snack is always welcome. And it is even better if they are involved in the making too.
A few days ago, I thought of baking some healthy and filling savoury goodies for the kids and the kids lend a helping hand too. As the mint plant on our tiny patch was overflowing, a few sprigs were promptly snipped and brought to the kitchen to make the following minty babies.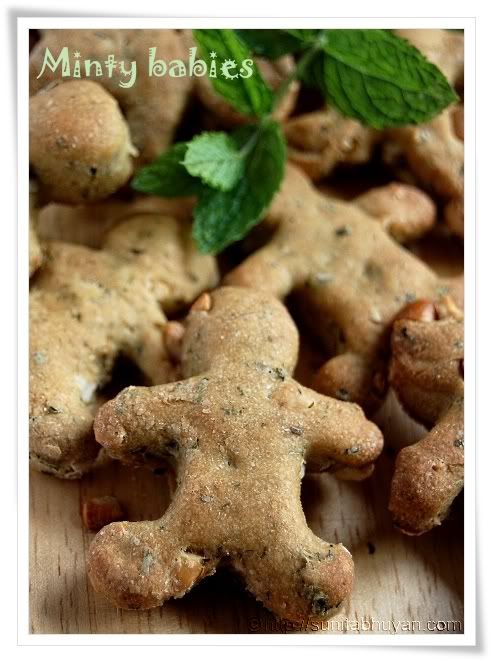 What's needed-
1/2 C of fresh mint leaves
5 tblsp of plain yogurt
2 C whole wheat flour ( atta)
1 tsp salt
1/2 tsp sugar
1/2 tsp bicarbonate of soda
3 tblsp of cashew nuts, roughly chopped
3 tblsp sunflower or vegetable oil
1/4 C water
How to-
Pre heat the oven at 180 deg C and line a baking tray with foil.
Pulse together the yogurt, mint, water and oil and keep aside.
In a bowl, mix together the flour soda, salt and nuts.
Make a well in the centre of the flour mixture and tip in the yogurt mixture. Mix  lightly with the fingertips till  everything is just moistened ad form a craggy ball of dough. Dust your hands with flour if the dough gets too sticky. Please do not knead or they will become very hard. Place the ball of dough on a lightly floured board and roll out to a rectangle of aboiut 1.2 cm in thickness. Cut out shapes ( we cut ours as babies; the kids loved this bit, and were all hands on). Gather the trimmings, and roll them out to the same thickness, cutting some more shapes. Repeat this till all the dough has been used up.
Place the cut out shapes on the lined tray, a little apart from each other.
Place the tray in the centre of the pre heated oven and bake for about 15-17 minutes or till the top is lightly browned.
Transfer to a rack to cool completely before storing in air tight containers.
These little bites are very addictive. The minty flavour  really comes out and adds the special touch and the nuts add the crunch too.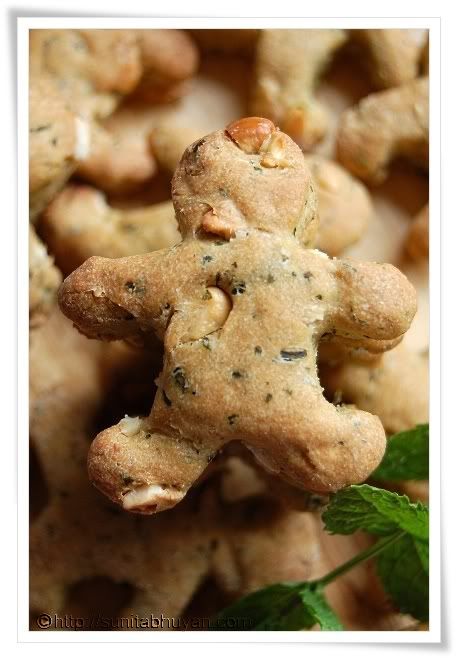 There were two very satisfied kids, who kept asking for more. And the mom? Of course, she was satisfied too…didn't she just dish out some healthy and tasty treats