I really love it when Rengoni and Agastya ask questions…which means that they are aware of their surroundings, and also shows their urge to know and inquire into the nature of things, rather than being a passive onlooker.
Well, as far as I can give a satisfactory answer to quench the thirst of those eager minds, that's fine. But sometimes it's really hard. To explain the nuances of life that a six and a half and a five and a half year old's mind could grasp is a mammoth task in itself. Because every time their queries are answered, I'm not met with the Ooohh!!Now, I get it!…sometimes the puzzled expressions in their little faces says it all. Two inquisitive faces looking up expectantly at you, while you grope around desperately, 'eerrming' and 'uumming', to find the correct words that their young minds will understand…that is one tricky situation!
And it's really amazing how fast their mindsets are changing…well, so are their queries. We usually try not to avid any of them and try to answer them as simply as we can. But they are growing…day by day they will have many more things they will want to know…hope we can still answer them in ways that they will "get it"! Touch wood!!
But, then, sometimes, their expressions leave no doubt about how they are feeling…like the time I offered them the following figgy bars to munch on…their eyes twinkled and it left no room for anything more to be said. I knew they were satisfied!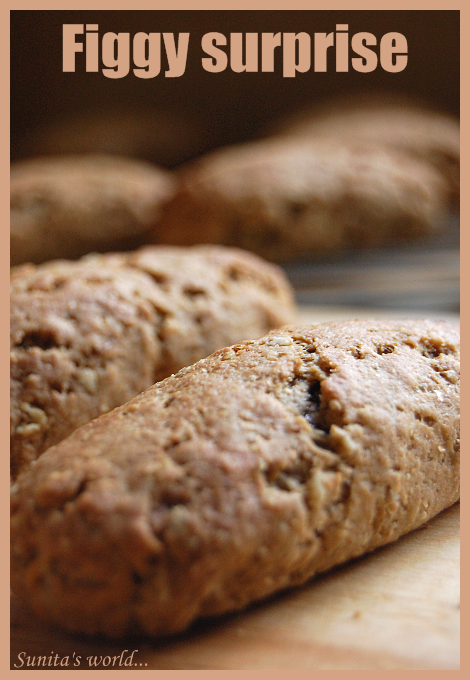 What's needed-
3 C of whole wheat flour
1 c porridge oats
4 tblsp dark brown sugar
1 tsp bicarbonate of soda
6 tblsp plain yogurt
3/4 C olive oil
a few drops of vanilla essence
1 tsp salt
For the filling-
300 gms of dried figs, soaked in hot water for an hour
a handful of chopped nuts of choice
How to-
Make a thick puree of the figs in a food processor with a few tblsp of water.
Add the nuts and mix in. Keep aside.
Whisk together the flour, oats, soda and salt.
In another bowl, whisk together the yogurt, sugar, oil and vanilla.
Make a well in the centre of the flour mixture and pour in the yogurt mixture.
Mix with the fingertips till everything comes together.
Cover the bowl with a lid or plastic wrap and chill for at least an hour.
Pre heat the oven at 180 deg C and line a baking tray.
Divide the dough into 18 portions and shape each into a ball.
Place each ball on a flat surface and pat them out into a circular shape of about 2mm in thickness (doesn't matter if the edges are uneven).
Spread a portion of the figgy mixture, leaving a space of about 1/2 cm around the edges.
Lift one end and bring it to the middle; lift the other end and overlap the first to form a roll.Tuck the edges and seal by pinching the edges. Repeat for all the rest of the dough.
Place them a little apart on the lined baking tray and bake in the centre of the pre heated oven for 18-20 minutes or till lightly browned on top ( the tops will also crack).
Leave in the tray for a couple of minutes and transfer to a rack to cool completely before storing.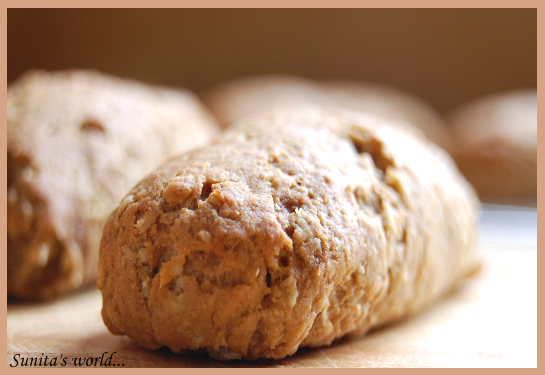 These bars have a crumbly crust and a crackling filling( courtesy the figgy seeds)… great to snack on. With forever hungry kids around, these bars are a real boon and keeps them going for a while. I adore figs, so I too was probably a bit more hungrier than usual