Sometimes you think, that things are just not going your way. You want something and little obstacles come out from nowhere, making you think, " Now where did that come from ?" Just when you think that you were having a smooth ride, you need to press the brakes really hard.
But, then again, there are those days, when lady luck just shines on you and everything goes too smoothly to be true. Yes, it is a special day for us. But, I will share the news a bit later. We're nearly at the end of the puzzle; just need the last piece to fit into place. Yes, the last three days have been good for us.
But, what I can share completely is the recipe for these cute little walnut, chocolate and banana cupcakes. These were made to keep a bunch of kids ( and grown ups) happy. These eggless,sugarless but moist and chocolatey cupcakes are very easy to rustle up and great to taste. Each little cake has a melt in the mouth feel.
What's needed-
100 gms of dark chocolate ( I used one with 85 % cocoa content), melted and cooled slightly
1 C whole wheat flour (atta)
7 tblsp of ground walnuts
1 and 1/2 tsp baking powder
1/2 tsp bicarbonate of soda
1 banana, pureed ( I got about 5 tblsps of puree)
7 tblsp of honey
6 tblsp of sunflower/vegetable oil
1/3 C of milk
a few walnut halves for topping
How to-
Pre heat the oven at 180 deg C and grease ( I used non stick spray) a mini muffin tray.
Whisk together the pureed banana, oil, honey and milk and keep aside.
In another bowl, mix together the flour, ground walnuts, soda and baking powder.
Make a well in the centre of the flour mixture and tip in the banana mixture. Fold in till everything is just moistened. Fold in the cooled chocolate.
Fill the moulds 3/4 of the way with the mixture and top with a walnut half. I got about 48 mini cupcakes; would mae about 10 regular cupcakes
Place the tray in the centre of the pre heated oven and bake for 15-17 minutes or till a toothpick inserted through the centre of the oven comes out clean. The cupcakes will be quite soft when they come out of the oven.
Cool in the tray for a few seconds and remove the muffins to a rack to cool completely.
These bite sized cupcakes were simply delicious.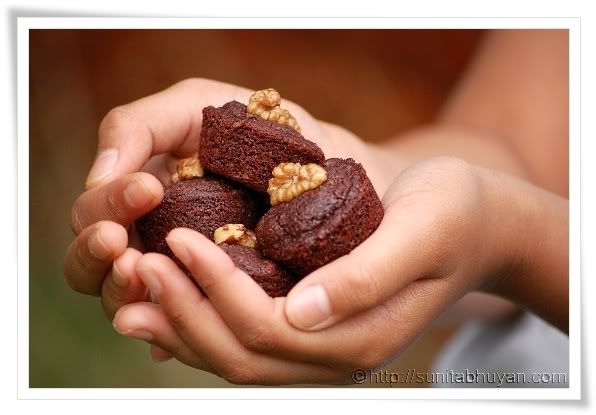 See how many of these little cupcakes Rengoni can hold? And there's still room for more!

That's how little they are , even in a seven year old's hand!
These little cupcakes are a real treat. It's fun popping them into the mouth. You won't stop at one…at least, I couldn't